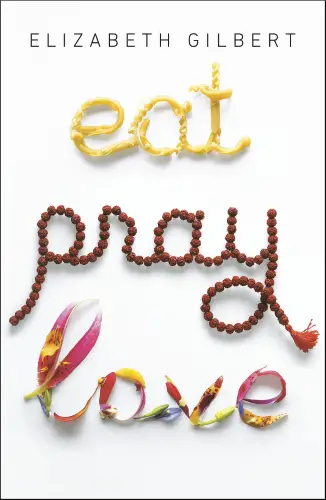 Date Published: February 16, 2006
Eat, Pray, Love:
TL;DR Summary
What if you could chuck everything, leave the wreckage of your past, and embark on a life-altering journey around the world?" "Eat, Pray, Love: One Woman's Search for Everything Across Italy, India and Indonesia" is my own story, Elizabeth Gilbert's raw tale of self-discovery following a devastating divorce.

Stricken by a heart-wrenching dissolution of her marriage, and a debilitating depression, I found myself in a sea of uncertainty, questioning the trajectory of my life. "Eat, Pray, Love" is a chronicle of my decision to step out of my comfort zone, casting aside the socially established norms of life and career, and bravely stepping into a quest of self-discovery.

The book is divided into three sections, each reflecting the countries I visited: Italy, India, and Indonesia. The journey starts in Italy, the country of gastronomy. In the streets of Rome, I savored the delights of Italian cuisine, gaining back the weight I had lost to depression, indulging in the decadent pleasure of 'dolce far niente' – the sweet art of doing nothing.

From Italy, I took the voyage to the spiritual realm of India. I immersed myself in the tranquility of an Ashram, embracing the practice of meditation and yoga, navigating the labyrinth of spirituality and self-realization. I grappled with my internal demons and emerged a calmer, more centered soul.

The journey concluded in Bali, Indonesia, where I discovered a blend of the physical world and the spiritual. It is in Bali where I found balance – the exquisite amalgamation of pleasures of life and spiritual peace, culminating in a compelling love story.

"Eat, Pray, Love" is a testament to human resilience, the capability of the soul to seek, to heal, and to fall in love again, and to find joy in the very essence of being alive. It's my journey, full of failures, triumphs, tears, and laughter, chronicling one woman's voyage to rediscover herself amidst the beautiful chaos of life.
Eat, Pray, Love:
Genres
Memoir
Travel Literature
Spirituality
Self-help
Women's Literature
Eat, Pray, Love:
Main Characters
Elizabeth Gilbert: The protagonist, and author of the book. A woman who, following a messy divorce, decided to explore three different countries to discover the pleasure of eating in Italy, the power of prayer in India, and the balance of love in Indonesia. Values independence, authenticity, self-discovery.
Eat, Pray, Love:
Themes
Self-discovery: A central theme, evident through Elizabeth's quest to find her inner peace and happiness. From Italy, where she discovers her love for food, to India, where she delves into spirituality, and finally in Bali, where she learns the art of balancing life.
Spirituality: Elizabeth's stay in India introduces spirituality as a theme. Her experiences in an Ashram, meditating, and finding peace within herself are detailed.
Love and Relationships: Elizabeth's story is one of love lost and found. From the end of her marriage in the U.S., to a failed relationship, and finally, her love story in Bali – it shows love as a transformative force.
Travel and Culture: With each country Elizabeth visits, the book uncovers different cultures, customs, and local wisdom. It shows how travel can be an eye-opening, life-changing experience.