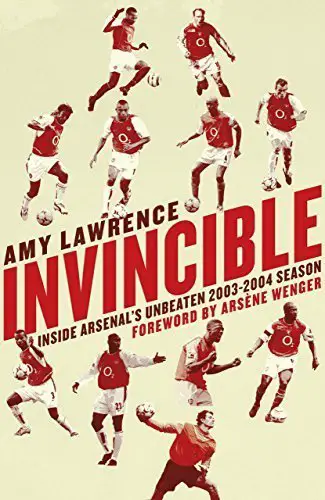 Date Published:
Invincible: Inside Arsenal's Unbeaten 2003-2004 Season:
TL;DR Summary
Ever dreamt of a perfect football season? Experience the unbeatable in 'Invincible: Inside Arsenal's Unbeaten 2003-2004 Season'.

This tantalising exploration by Amy Lawrence catapults you directly onto the pitch, into the locker rooms, and inside the tactical genius of Arsène Wenger, the French coach who steered Arsenal to this legendary feat in the history of English football.

The core thesis of 'Invincible' is Wenger's ironclad belief in his team's potential. He was determined to develop an unbeatable season and achieved this through an unshakeable faith in his squad, intense training, and a dynamic strategy that combined technical skill with mental resilience. Lawrence eloquently unravels the science behind Wenger's philosophy and the fortitude with which each player executed it, defying all odds in a turbulent, unpredictable season.

Using a rich amalgam of exclusive interviews, personal anecdotes, match analyses, and insightful commentaries, Lawrence captures the players' perspectives and the collective spirit that propelled the Gunners through the 38-game season without a loss. This inside look provides an intimate portrait of the team and a comprehensive understanding of the build-up, climax, and aftermath of this monumental achievement.

'Invincible' is not just about football—it's about unity, endurance, and the relentless pursuit of excellence. It's a riveting journey that vividly demonstrates what can be achieved when a group of individuals truly believe they can be invincible. The narrative resonates with tension, celebration, and drama, holding readers' interest like the suspenseful pause before a penalty kick. It offers a unique prism through which to view one of the greatest moments in Premier League history and a blueprint for achieving perfection against all odds.
Invincible: Inside Arsenal's Unbeaten 2003-2004 Season:
Genres
Non-fiction
Sports
Football (Soccer)
Biography
History
Invincible: Inside Arsenal's Unbeaten 2003-2004 Season:
Main Characters
Arsène Wenger: The mastermind behind Arsenal's unbeaten season, Wenger's unwavering faith in his squad and innovative coaching strategies are critical to the book. He emerges as a visionary who dared to dream big and led his team to achieve the unthinkable.
Thierry Henry: One of the most prominent players of the season, Henry's exceptional skills, and fierce determination served as a key driving force in the team's success. His love for the game and commitment to Arsenal is evident throughout the narrative.
Patrick Vieira: The midfield general of Arsenal during that season, his leadership skills, and never-say-die attitude echo throughout the book. His influence on the team was crucial in turning Wenger's ambitious dream into reality.
Sol Campbell: The defensive rock in Arsenal's invincible team, Campbell's unwavering strength and robust defending underlined the team's resolve and contributed significantly to their unbeaten streak.
Invincible: Inside Arsenal's Unbeaten 2003-2004 Season:
Themes
Team Spirit: The book emphasizes the unity, camaraderie, and collective spirit within the team. This is illustrated by the way the squad rallied to support each other through difficult matches, epitomizing the motto: "Together, we stand; divided, we fall."
Perseverance: The theme of perseverance shines through the narrative. Examples are aplenty, such as how the team overcame injuries, off-field issues, and daunting opposition, refusing to let any obstacle break their unbeaten run.
Leadership: Wenger's leadership emerges as a central theme. His ability to inspire his players, make tactical decisions, and guide the team is evident in their unbeaten season, portraying the significance of effective leadership in sports.
Excellence: The quest for excellence and perfection is another core theme. Arsenal's unrelenting pursuit of a flawless season underlines this, symbolizing their commitment to reach the pinnacle of football excellence.
Invincible: Inside Arsenal's Unbeaten 2003-2004 Season