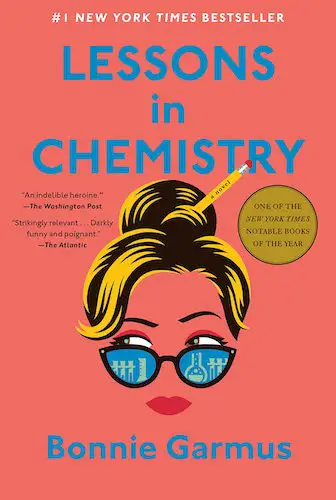 Date Published: April 5, 2022
Lessons in Chemistry:
TL;DR Summary
Crack the code of the human heart with Bonnie Garmus's 'Lessons in Chemistry'.

A story meticulously suspended between the rigor of science and the chaos of life, this tale illuminates the trials and triumphs of the audacious Elizabeth Zott. Immersed in the bustling cityscape of San Francisco, in an era that simmered with prejudice and patriarchy, our narrative unfolds.

Elizabeth, a brilliant chemist defying the masculine norm of the late 50s and early 60s, finds her path to academia thwarted by gender bias and personal calamity. In a twist of fate, she transitions from the lab to a television studio, becoming the star of a popular cooking show. But this isn't your grandmother's culinary program—each episode is laced with the magic of molecular transformations and the underpinnings of life itself, subtly educating a generation of homemakers in the fundamentals of chemistry.

However, beneath the facade of homely wisdom, Elizabeth carries the burdens of a complicated past: a familial history marred by scandal, loss, and the struggle for identity, a professional life stained by sexual assault, deceit, and the crushing disappointment of unfulfilled ambition. With a daughter, Madeline, to care for, she navigates her unconventional path, striving to balance her hunger for scientific discovery with the responsibilities of single motherhood.

'Lessons in Chemistry' is a powerful, poignant exploration of resilience, the human spirit's capacity to adapt and endure. It illuminates how, even amidst life's harshest trials, we find ways to continue learning and growing, breaking boundaries, and reshaping the world in our own image."
Spoilers (click here to reveal spoilers)
In a climax simmering with revelations, Elizabeth takes a brave leap of faith towards her rightful place in the realm of science. This pursuit is sparked by an unexpected phone call, a beacon of hope in her struggle. It's a moment that encapsulates the resilience of the human spirit, a testament to her enduring love for her craft.

Her decision to quit the popular cooking show sets in motion a chain of events that have far-reaching consequences. The empowering narrative reaches its peak when, through a combination of fortuitous circumstances and determined resistance, Elizabeth finds herself reclaiming her position in the scientific community, this time at the helm of her domain.

Meanwhile, the relationship between Elizabeth and Madeline evolves, colored by the entrance of a new character who unveils a hidden link to their past. The story culminates in an intimate moment at their home, where a supper represents the convergence of their past struggles and future hopes. Thus, 'Lessons in Chemistry' ties up its intricate narrative threads with a poignant nod to the intertwined facets of family, ambition, and the relentless pursuit of truth.
Lessons in Chemistry:
Genres
Fiction
Literary Fiction
Women's Fiction
Historical Fiction
Science Fiction
Lessons in Chemistry:
Main Characters
Elizabeth Zott: A resilient, fiercely intelligent chemist fighting societal norms to continue her scientific research. Her resilience is exemplified in her determination to convert a cooking show into a platform for scientific education.
Calvin Evans: A brilliant chemist and Elizabeth's lover. His humility and admiration for Elizabeth's intelligence, despite societal gender norms, underline his progressive thinking.
Madeline: Elizabeth's precocious daughter, a symbol of her mother's fortitude. Madeline's efforts to trace Calvin's past illustrate her relentless curiosity and persistence.
Walter Pine: The television producer who offers Elizabeth her cooking show, his belief in Elizabeth's unconventional approach to television reinforces his innovative outlook.
Harriet Sloane: Elizabeth's caring and insightful neighbor. Her willingness to help Elizabeth and Madeline shows her kind-heartedness and sense of community.
Avery Parker: The mysterious benefactor who turns out to be Calvin's biological mother. Her generosity and longing to be part of the family underline her deep-rooted maternal instinct.
Lessons in Chemistry:
Themes
Empowerment and Resistance: Elizabeth constantly pushes against societal and professional constraints, symbolizing the struggle for women's empowerment in a male-dominated society.
The Intersection of Science and Everyday Life: Through her cooking show, Elizabeth brings complex scientific concepts to a lay audience, showcasing the role of science in everyday life.
Motherhood and Familial Bonds: The relationship between Elizabeth and Madeline portrays the challenges and joys of motherhood, while the inclusion of Avery Parker highlights non-traditional family structures.
The Pursuit of Truth and Justice: The novel emphasizes the importance of truth and justice, shown in Elizabeth's fight against workplace harassment and her struggle to reclaim her rightful place in scientific research.
Resilience in the Face of Adversity: Throughout the narrative, the characters' ability to adapt and endure despite life's trials illustrates the human capacity for resilience.