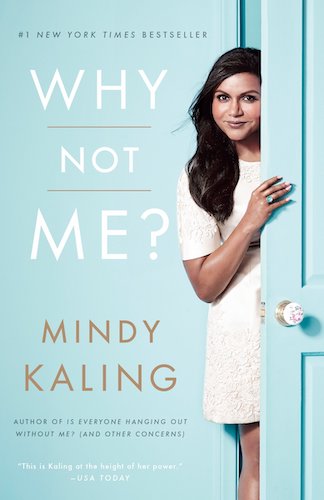 Date Published: September 27, 2016
Why Not Me?:
TL;DR Summary
Are you ready to laugh your pants off, maybe shed a tear or two, and uncover the secrets of Hollywood success? If yes, let me introduce you to 'Why Not Me?', the fabulous second brainchild of everyone's favorite TV sweetheart, Mindy Kaling."

A collection of essays, tales, and musings that braid together to form an honest, humorous, and at times, heartwrenching narrative of her life.

This book isn't just a peek behind the scenes of The Office and The Mindy Project. It's a blueprint of Mindy's climb to fame, highlighting the bumps, detours, and seemingly impossible vertical slopes she faced.

As you read, you realize 'Why Not Me?' is less a question and more a mantra, a battle cry against societal expectations and self-doubt.

The book swings from anecdotes on body image, friendship, love, and Hollywood's stereotypical beauty standards, to deep introspections on self-worth and ambition. It does this all while tickling your funny bone and making you ponder your life choices. Mindy invites you into her world, not to gawk, but to learn and hopefully take away a nugget of wisdom or two - all this, served with a generous side of relatability and a dash of sass!
Why Not Me?:
Genres
Non-fiction
Bestseller
Autobiography
Humor
Essays
Celebrity Memoir
Women's Studies
Inspirational
Why Not Me?:
Main Characters
Mindy Kaling: A comedic actress, writer, and producer, she is fiercely ambitious and hardworking. Mindy uses humor to navigate and reflect on societal norms. Her value of authenticity shines through her candid discussions about her body image and navigating Hollywood as a woman of color. For example, when she discusses her Vogue photo shoot and her ambivalence towards fitting into the desired size zero.
Why Not Me?:
Themes
Self-love and Body Positivity: Mindy discusses the societal pressures surrounding body image and how she learned to love herself as she is. For instance, her sharing about her Vogue photo shoot and her struggle to fit into the high fashion clothing sizes.
Ambition and Success: Mindy's career in Hollywood serves as the backdrop to explore this theme. She depicts her success not as a result of luck but relentless hard work. When she details about her time working on 'The Office', the reality of the long hours and less glamorous aspects of her job are brought to light.
Friendship: Mindy's friendships, particularly her complex relationship with B.J. Novak, underline the importance of supportive, understanding relationships. Their bond, as she describes it, oscillates from being colleagues, best friends, to having a romantically tinged partnership.
Identity and Representation: As a woman of color in Hollywood, Mindy confronts stereotypes and prejudices. A poignant moment that highlights this is when she talks about the difficulties she faced as a woman of color to land significant roles in the industry.
Humor as Coping Mechanism: Throughout the book, Mindy uses humor to handle setbacks and criticisms. Her funny anecdotes and sarcastic quips serve as a testament to this, making the book not only a profound read but also an immensely entertaining one.