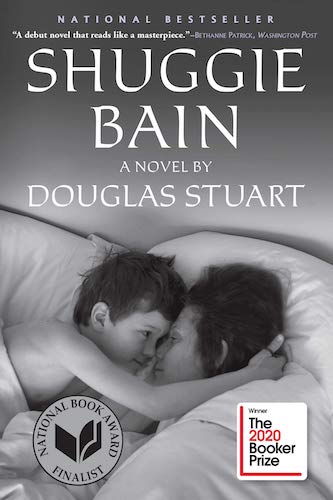 Date Published: February 11, 2020
Shuggie Bain:
TL;DR Summary
Dive into the harrowing yet enthralling world of "Shuggie Bain" by Douglas Stuart. Set in the 1980s Glasgow, ravaged by poverty, it's a poignant tale, part love story, part tragedy.

Our protagonist, the eponymous Shuggie Bain, is a sweet, tender-hearted boy navigating through the bleak and unforgiving landscape of his post-industrial Scottish upbringing.

Life deals Shuggie a heavy hand – a family beset by despair, addiction, and economic hardship. Yet amid this backdrop, Shuggie's love for his beautiful, wayward mother, Agnes, shines brightest, like a lone beacon in the crushing darkness. Agnes herself is a complex paradox, glamour personified amid the ruins, a woman who dreams of a life better than the bitter cocktail of men, loneliness, and cheap alcohol. This story's magic lies in the relentless struggle, the human spirit's indomitable resilience – a testament to love's survival against the bleakest odds.
Spoilers (click here to reveal spoilers)
As we reach the climax of "Shuggie Bain," the melancholy reality of our hero's world comes full circle. The weight of Agnes's addiction, like the city's relentless rain, finally consumes her, leaving Shuggie to grapple with an adulthood marred by the echoes of his mother's troubled life. It's a denouement that leaves one bereft yet inspired. Our hero, like a sapling in the storm, bends but never breaks. He falls into the cyclical trap of his surroundings, working in the same pub where his mother once squandered her beauty and hopes. Yet in this familiarity, he finds an odd comfort, a means to honor Agnes's memory. Despite the numbing despair, the ending underlines an enduring message: that even in the face of relentless hardship and heartbreaking loss, life has a way of enduring, of struggling forward, of surviving.
Shuggie Bain:
Genres
Fiction
Literary Fiction
Coming-of-Age
Social Commentary
Shuggie Bain:
Main Characters
Shuggie Bain: An innocent, resilient boy carrying the weight of his mother's addiction. His loyalty manifests in his unwavering dedication to Agnes, exemplified in his daily, tireless efforts to maintain their household.
Agnes Bain: Shuggie's charismatic yet deeply flawed mother, her charisma is evidenced in the way she lights up a room, despite her struggle with alcoholism. Her penchant for dreaming of a better life signifies her undying hope.
Shug Bain: A capricious cab driver, Shuggie's father is a man who prefers escapism over responsibility, evidenced by him abandoning his family for another woman.
Shuggie Bain:
Themes
Addiction and its Consequences: The narrative showcases the devastating effects of Agnes's alcoholism, leading to the family's social and economic decline.
Poverty and Social Class: The impact of socioeconomic conditions on individual lives and communities is presented through the vivid depiction of Glasgow's decaying urban landscape.
Survival and Resilience: Despite relentless hardships, the characters' spirit of survival is underscored, embodied in Shuggie's unwavering hope and love for his mother.
Love and Sacrifice: Shuggie's unconditional love for his mother defines his existence, his sacrifices bearing testament to the extents one goes to for loved ones.