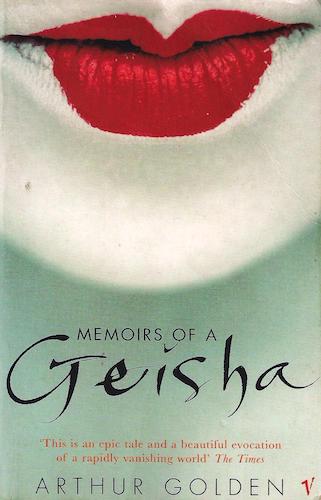 Date Published: September 27, 1997
Memoirs of a Geisha:
TL;DR Summary
Dive into the fascinating and often cruel world of "Memoirs of a Geisha," where a young girl's destiny is shaped by extraordinary circumstances, set against the mesmerizing backdrop of Kyoto, Japan. Nitta Sayuri, our protagonist, begins her journey as a simple fisherman's daughter named Chiyo in a poor Japanese village. A chance encounter with a stranger propels her into the whirlwind world of geishas, renowned for their beauty and artistry.

Chiyo, soon renamed Sayuri as she steps into the geisha lifestyle, experiences the captivating yet challenging life filled with dance, music, and an array of intricate social customs. As Sayuri navigates her way through this complex world, she experiences love, loss, jealousy, and competition that's as breathtaking as it is heartrending.

She encounters memorable characters, such as the cunning Hatsumomo, the maternal Mameha, and the enigmatic Chairman, all crucial in shaping her destiny. As Sayuri learns to survive and even thrive in this world, we see the remarkable transformation of a girl into a woman, of a novice into a famed geisha, and of a mere spectator into a vital participant in the cultural milieu of the time.

"Memoirs of a Geisha" unveils a beautifully intricate world, rarely seen and understood by outsiders. It's a world where beauty and elegance are valuable commodities, but so are cunning and resilience. It's an unfiltered glimpse into a secretive society, as well as the resilience and spirit of one woman who learns to navigate its convoluted pathways.
Spoilers (click here to reveal spoilers)
In an unexpected twist of fate, Sayuri finally attains the love and life she had yearned for. She achieves unparalleled success as a geisha, and eventually, it is revealed that the Chairman, the man she has secretly loved for years, reciprocates her feelings. With the Second World War causing societal upheaval, the world of geishas also crumbles. Amidst these changes, Sayuri finds herself in New York, where she starts her own teahouse. She finally achieves a level of freedom, steering clear of the manipulative forces that initially controlled her life. Thus, Sayuri's story concludes with a hint of melancholy, combined with the satisfaction of a life well-lived despite the odds.
Memoirs of a Geisha:
Genres
Fiction
Historical Fiction
Coming-of-Age
Romance
Cultural
Memoirs of a Geisha:
Main Characters
Nitta Sayuri/Chiyo: A captivating geisha, characterized by her unique blue-grey eyes. Initially naive, she grows into a resilient woman, skilled in the arts and crafts of the geisha world.
Hatsumomo: A ruthlessly ambitious geisha, driven by jealousy and personal ambition.
Mameha: A nurturing figure who acts as Sayuri's mentor and guide, helping her navigate the intricate geisha world.
Chairman: A compassionate, enigmatic figure who influences Sayuri's life, becoming the object of her deep, unspoken love.
Memoirs of a Geisha:
Themes
Perseverance: Seen in Sayuri's journey as she overcomes various hardships to become a renowned geisha.
Love and Desire: A recurrent theme, especially visible in Sayuri's enduring affection for the Chairman.
Manipulation and Power: Evident in the struggles within the geisha society, particularly through the character of Hatsumomo.
Tradition and Change: Illustrated by the transition in Japanese society, mirrored in the evolving geisha culture.
Identity: Explored through Sayuri's transformation from Chiyo, the fisherman's daughter, to Sayuri, the famed geisha.