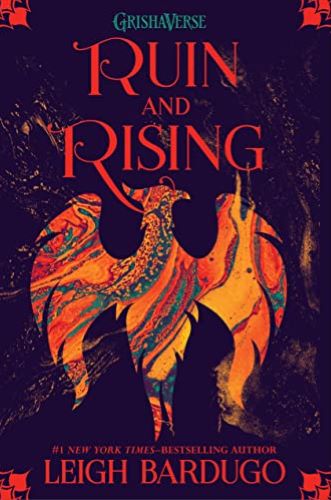 Date Published: June 17, 2014
Ruin and Rising:
TL;DR Summary
Unearth secrets darker than shadows, discover love fiercer than wars, and confront powers more devastating than you've ever imagined – all in Leigh Bardugo's "Ruin and Rising." The third and final book in the captivating Grisha Trilogy, the novel sets its stage in the richly imagined land of Ravka, torn apart by civil unrest and threatened by the menacing Shadow Fold.

Our heroine, Alina Starkov, an ordinary orphan, is now the Sun Summoner - a mythical figure of power, the only one capable of banishing the darkness of the Fold. Hidden away in the underground network of tunnels, she is desperate to heal, regain her strength, and marshal her forces to defeat the Darkling, a man who she once considered a mentor, now a formidable adversary. The story moves with Bardugo's iconic twists, as Alina, with her ragtag crew of loyal friends, and Mal, her loyal protector and love, ventures across ravaged landscapes in search of the elusive firebird, the third amplifier, which might be the final key to defeating the Darkling.

"Ruin and Rising" beautifully encapsulates Bardugo's dexterity in crafting a narrative that vibrates with high-stake battles, unexpected alliances, and devastating betrayals. It is a compelling exploration of power, love, sacrifice, and the haunting shadows of the past, where choices have consequences and hope is a double-edged sword.
Spoilers (click here to reveal spoilers)
In the climactic finale of "Ruin and Rising," Alina's quest leads her to the shocking realization that Mal, her steadfast companion, is the third amplifier – the firebird. Upon his selfless sacrifice, Alina absorbs the power and confronts the Darkling in a cataclysmic battle, resulting in his death. However, the amalgamation of all three amplifiers strips her of her Grisha powers. She fakes her death, and the world believes that the Sun Summoner perished in the battle against darkness. Living in obscurity, Alina and Mal lead a peaceful life running an orphanage in Keramzin, while Nikolai, their loyal ally, ascends the throne and leads Ravka into a hopeful future.
Ruin and Rising:
Genres
Fantasy
Young Adult (YA)
Romance
Adventure
Dark Fantasy
Ruin and Rising:
Main Characters
Alina Starkov: An orphan who transforms into the Sun Summoner. She embodies strength, resilience, and a willingness to sacrifice for her nation. Her power to summon light represents her inner determination, seen when she faces the Darkling and chooses to lose her powers for Ravka's sake.
Malyen "Mal" Oretsev: Alina's childhood friend and love interest, Mal is a skilled tracker. His loyalty, selflessness, and bravery are his key attributes, as shown when he willingly gives up his life as the third amplifier.
The Darkling: The compelling antagonist of the series, he is a complex character driven by a vision of a better world, albeit through ruthless means. His pursuit of power and control, while being captivating and charming, underscores his manipulative nature.
Ruin and Rising:
Themes
Sacrifice and Love: The book beautifully intertwines sacrifice with love. Characters show a readiness to give up their lives for those they care about, notably Mal, who sacrifices his life for Alina.
Power and Corruption: The story dissects the complexities of power and its ability to corrupt. The Darkling's hunger for power and Alina's struggle with her newfound abilities present contrasting viewpoints.
Identity and Self-discovery: Alina's transformation from an ordinary girl into a nation's savior and then back into obscurity is an important exploration of identity. Throughout the trilogy, Alina grapples with her powers, her responsibilities, and her true self, finally finding peace in an ordinary life with Mal.
Hope and Resilience: Despite facing seemingly insurmountable odds, the characters cling to hope and exhibit remarkable resilience. The entire nation of Ravka, encapsulated in characters like Alina and Nikolai, perseveres amidst despair and ruin, striving for a better future.
Friendship and Loyalty: The strong bond among Alina, Mal, and their group of Grisha friends underpins the narrative. Their loyalty and support for each other, despite the odds, provide Alina with the strength to face her destiny.