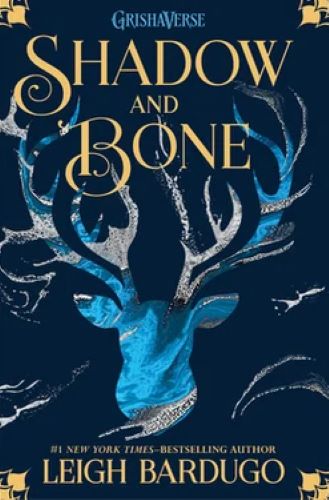 Date Published: June 5, 2012
Shadow and Bone:
TL;DR Summary
Just when you thought the fantasy genre had nothing new to offer, "Shadow and Bone" by Leigh Bardugo enters the scene, promising a whirlwind of magic, romance, and high stakes that you won't see coming. Dive into the Grisha-verse, a harsh world inspired by Tsarist Russia, where magic and science coexist in an uneasy balance.

Our heroine, Alina Starkov, is an orphaned mapmaker in the Kingdom's First Army. She's accustomed to being ordinary, until a near-death experience reveals her extraordinary power, the ability to summon sunlight - a power that could be the key to destroying the Shadow Fold, a terrifying swath of darkness filled with monsters that cuts through their war-torn country, Ravka.

But power comes with a price, as Alina quickly learns. Swept from her mundane life, she is thrust into the dazzling and dangerous world of the Grisha, an elite group of magical soldiers serving the kingdom. Under the tutelage of the enigmatic and seductive Darkling, the most powerful Grisha of them all, Alina must grapple with her new abilities, political intrigue, and her heart's uncertain loyalties. As she uncovers the shocking truth about the Grisha, the Fold, and her own past, Alina must decide how much she's willing to sacrifice for a chance to change the world.
Spoilers (click here to reveal spoilers)
In a tense finale, Alina discovers the truth about the Darkling – he's not a savior but a monster, the one who created the Shadow Fold. His plan is to control Alina's powers to further his ambitions, transforming Ravka into a nation under his absolute dominion. Alina, devastated and betrayed, rejects his vision. In the climactic battle, Alina tricks the Darkling into freeing her and escapes with her childhood friend Mal and a peculiar stag amplifying her powers. The book closes with Alina and Mal on the run, fleeing towards an unknown future. But one thing's certain: the battle for Ravka's soul is far from over.
Shadow and Bone:
Genres
Fantasy
Young Adult
Romance
Dark Fantasy
Adventure
Shadow and Bone:
Main Characters
Alina Starkov: An orphan and mapmaker with latent Grisha abilities. She values loyalty and bravery, demonstrated when she risks her life to save her childhood friend Mal.
The Darkling: The head of the Grisha army who harbors ambitions of total control. His value for power over morality is revealed in his creation and intended use of the Shadow Fold.
Mal Oretsev: Alina's childhood friend and a gifted tracker in the First Army. His loyalty to Alina and his selflessness are illustrated when he helps Alina escape the Darkling, despite the personal danger.
Shadow and Bone:
Themes
Power and Corruption: The Darkling's lust for control exemplifies the corruption that often accompanies unchecked power.
Identity and Self-Discovery: Alina's journey from an ordinary mapmaker to a Sun Summoner highlights the theme of self-discovery and accepting one's unique identity.
Friendship and Loyalty: Alina and Mal's relationship demonstrates the enduring nature of friendship and loyalty, even amidst trials and transformations.
Sacrifice: Alina must decide what she's willing to give up for the greater good, epitomizing the theme of personal sacrifice.