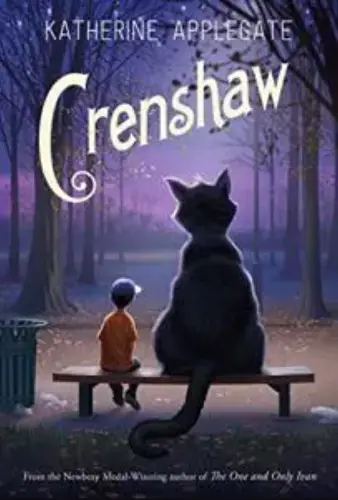 Date Published: 2015
Crenshaw:
TL;DR Summary
Unlock the Magic of Friendship with Crenshaw! In the heart of bustling Los Angeles, a tale of resilience, friendship, and imagination unfolds in Katherine Applegate's "Crenshaw." The story orbits around Jackson, a pragmatic fifth-grader, who finds his world turned upside down when his family faces the harsh reality of homelessness. Amidst the chaos, an unexpected visitor reappears - Crenshaw, a giant, surfboarding, bubble-bath-loving cat, who is as real as the looming crisis.

Crenshaw, a product of Jackson's imagination from his younger years, returns at a time when Jackson needs him the most. The feline's reappearance forces Jackson to confront his fears and the harsh realities of his life. Applegate weaves a tale that is as much about the power of imagination as it is about the stark reality of poverty. The narrative is a delicate balance of harsh truths and whimsical fantasy, a testament to the resilience of a child's spirit in the face of adversity.
Spoilers (click here to reveal spoilers)
In a heartrending climax, Jackson's family is on the brink of living in their minivan, a haunting repeat of their past. Jackson, initially resistant to Crenshaw's presence, finally opens up to his imaginary friend, revealing his fears and insecurities. Crenshaw, with his feline wisdom, encourages Jackson to express his feelings to his parents. Taking Crenshaw's advice to heart, Jackson confronts his parents about his fears, leading to a family conversation that had been long overdue. The story concludes on a hopeful note, with the family deciding to face their challenges together, and Crenshaw fading away, his purpose fulfilled.
Crenshaw:
Genres
Fiction
Children's Literature
Realistic Fiction
Social Themes
Friendship
Crenshaw:
Main Characters
Jackson: A pragmatic and mature fifth-grader, Jackson values honesty and facts. His ability to face reality is evident when he acknowledges his family's financial crisis.
Crenshaw: Jackson's imaginary friend, Crenshaw is a large, anthropomorphic cat who loves surfing and bubble baths. He symbolizes hope and comfort, helping Jackson navigate his fears during tough times.
Jackson's Parents: They are loving and protective, trying to shield their children from their financial struggles. Their determination is seen when they decide to face their challenges head-on.
Crenshaw:
Themes
Poverty and Homelessness: The book candidly explores the impact of financial instability on a family, seen through Jackson's experiences.
Imagination: Crenshaw's existence underscores the power of imagination as a coping mechanism during difficult times.
Communication: The story emphasizes the importance of open dialogue within a family, highlighted when Jackson finally shares his fears with his parents.
Friendship: The bond between Jackson and Crenshaw illustrates the strength and comfort derived from friendship, even if it's imaginary.