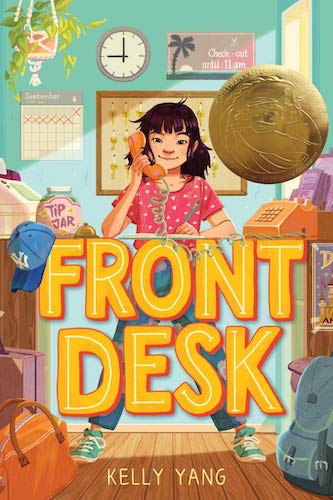 Date Published: May 29, 2018
Front Desk:
TL;DR Summary
Ever thought managing a motel could be child's play? Dive into Front Desk and think again! Set against the vibrant backdrop of 1990s Anaheim, California, Front Desk chronicles the rollercoaster life of ten-year-old Mia Tang. While her immigrant parents scrub toilets and handle unending laundry at the Calivista Motel, Mia unexpectedly becomes the face of the establishment, managing the front desk. But this isn't just a story about motel management. It's a tale of dreams and heartaches, of Mia and her family trying to find their feet in a land that often feels alien. As they grapple with unsympathetic bosses, the weight of secrets, and the desperate fight for a piece of the American dream, Mia learns that life might not always be fair, but hope and friendship can be found in the most unexpected places.
Spoilers (click here to reveal spoilers)
When the motel's cruel owner, Mr. Yao, threatens the Tang family's future, Mia channels her wits and determination to find a way out. With the support of a diverse cast of motel guests, her teacher, and her indomitable will to write, Mia champions an effort to purchase the Calivista. Through resourcefulness and resilience, the Tangs finally achieve their dream, turning the once unsympathetic environment into a haven for many, and marking a new chapter for the family in their quest for the American dream.
Front Desk:
Genres
Fiction
Middle Grade Fiction
Coming-of-Age
Historical Fiction
Immigrant Experience
Front Desk:
Main Characters
Mia Tang: A tenacious ten-year-old with a penchant for writing and an undying spirit. Despite facing discrimination at school for her poor English, Mia's resilience shines when she helps run the Calivista and champions justice for her family and friends.
Mr. and Mrs. Tang: Mia's loving parents. Hardworking immigrants, they strive to give Mia a better life, even when faced with relentless challenges. Their sacrifices, like working multiple jobs, embody their dedication to family and hope.
Mr. Yao: The tough owner of the Calivista Motel. Representing the many obstacles the Tang family must overcome, his stringent rules and greed test their limits.
Lupe: Mia's best friend. She offers insights into the struggles of other marginalized communities and supports Mia in her quest for fairness, as when they bond over their shared poverty.
Front Desk:
Themes
Immigrant Experience: The Tang family's journey highlights the complexities, challenges, and hopes tied to forging a new life in a foreign land, like when they face language barriers and discrimination.
Resilience: Throughout the various trials, Mia and her family's unyielding spirit showcases the strength needed to overcome adversities, evident as Mia faces challenges head-on, from school bullies to motel mismanagement.
Power of Friendship: Bonds formed at the Calivista Motel demonstrate the importance of community and mutual support, as seen in Mia's relationship with the motel's guests who become like family.
Socioeconomic Inequalities: The book sheds light on the disparities between the rich and the poor, and the often invisible struggles faced by marginalized communities, like Mia and Lupe's conversations about their dreams and limitations.
Empowerment Through Expression: Mia's passion for writing serves as an outlet for her emotions and becomes a tool for change, like when her letters challenge societal norms and advocate for justice.