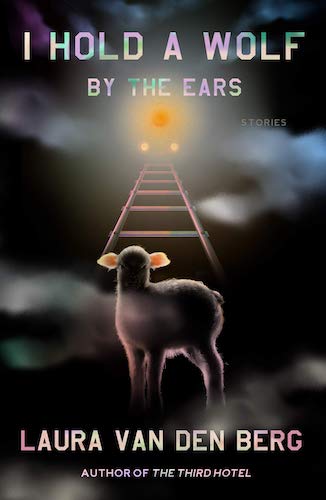 Date Published: July 28, 2020
I Hold a Wolf by the Ears: Stories:
TL;DR Summary
Hold your breath! "I Hold a Wolf by the Ears" uncovers unsettlingly beautiful realities you never imagined. In Laura van den Berg's collection of captivating stories, we navigate the mysterious streets of Rome, Barcelona, Florida, and Mexico, to unknown towns draped in foggy uncertainty. Van den Berg guides us through a world where women find themselves caught between past traumas and uncertain futures, wrestling with their own sanity in a world that consistently refuses to grant them clarity.

These short stories, told from the perspectives of women on the precipice of unraveling, are portals into lives brimming with paradox. Some grapple with grief and loss, their worlds colored in varying shades of absence. Others see their past traumas blurring the lines between reality and paranoia. Each narrative is an elegantly crafted psychological exploration that vacillates between the hauntingly real and the terrifyingly surreal.

Van den Berg's women are caught in the jaws of life's most profound dilemmas, standing at the edge of reason and madness. "I Hold a Wolf by the Ears" evokes raw emotions, underscoring the challenging navigation through the labyrinth of human mind, capturing the tangible essence of the ethereal. It's a journey that reveals the raw intensity of existence, where the women must confront the wolves — both real and metaphoric — lurking in their lives.
Spoilers (click here to reveal spoilers)
As "I Hold a Wolf by the Ears" reaches its crescendo, readers are left with an uncanny sense of resolution. Each protagonist, having wrestled with her own wolf, reaches a point of reckoning. In "Your Second Wife," Rachel realizes she's been constructing a fantasy about the man she loved, thus blurring the lines between reality and illusion. In the final, eponymous story, a woman confronts her husband's ghost, grappling with the liminal space between life and death. The veil between the real and unreal finally dissolves, leaving the women with a newfound understanding of their own narratives. These stories do not conclude with traditional closure, but rather with an acceptance of ambiguity, a testament to van den Berg's remarkable ability to translate the complexities of the human condition into her narratives.
I Hold a Wolf by the Ears: Stories:
Genres
Fiction
Literary Fiction
Short Stories
Psychological Fiction
Women's Fiction
Magical Realism
I Hold a Wolf by the Ears: Stories:
Main Characters
Rachel from "Your Second Wife": Rachel is a woman grappling with grief and loss. She portrays her determination when confronting her illusions about her deceased lover.
The protagonist from "I Hold a Wolf by the Ears": This unnamed woman stands as a testament to resilience. Facing the apparition of her husband, she navigates the thin line between life and death, affirming her strength.
Maria from "Last Night": Maria, fighting with her own sense of reality, is a profound picture of human vulnerability. Her dedication to her husband, despite her doubts about his fidelity, showcases her undying loyalty.
I Hold a Wolf by the Ears: Stories:
Themes
The Uncanny: This collection blurs the lines between reality and the surreal, like in "Last Night," where Maria grapples with her suspicions about her husband's fidelity.
Grief and Loss: A recurring theme in the book is the women's struggle with grief and loss. In "Your Second Wife," Rachel is coping with the loss of her lover.
The Feminine Struggle: Each story explores different aspects of women's struggles, from loss and grief to identity and reality, offering an in-depth exploration of female experiences in a male-dominated world.
I Hold a Wolf by the Ears: Stories