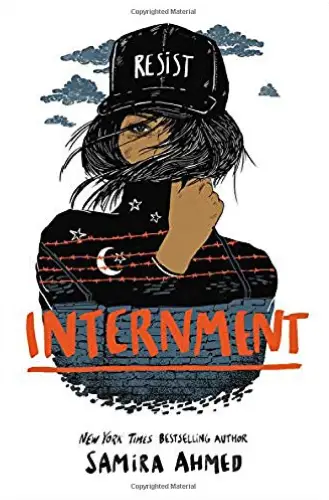 Date Published: March 7, 2019
Internment:
TL;DR Summary
"Internment" by Samira Ahmed - a tale that will make your heart race and your spirit rebel. Picture this: America, the land of the free, has fallen into the hands of fear and prejudice. The government, in a chilling echo of the past, has created internment camps for Muslim American citizens. Our story unfolds in this dystopian near-future, where the familiar streets of Los Angeles have turned into a battleground for freedom and identity.

Our protagonist, seventeen-year-old Layla Amin, refuses to accept this horrifying reality. She's a firebrand, a beacon of hope, and a symbol of resistance. When she and her parents are forced into one such camp, she refuses to let the barbed wires of oppression cage her spirit. Layla sparks a revolution, rallying those around her to fight against the injustice. Her courage is contagious, her resilience, inspiring.

The narrative weaves a tapestry of love, friendship, and rebellion. It's a heart-wrenching exploration of identity, faith, and the power of resistance in the face of authoritarianism. Ahmed's prose is as fierce as her characters, painting a vivid picture of a world that is all too possible. "Internment" is a clarion call to action, a reminder of the power of the human spirit, and a testament to the enduring resilience of hope.
Spoilers (click here to reveal spoilers)
In a breathtaking climax, Layla's rebellion against the camp's Director and his oppressive regime reaches a fever pitch. With the help of her friends inside the camp and a surprising ally on the outside, Layla orchestrates a daring escape. The world watches as the truth of the internment camps is exposed, sparking widespread protests and international condemnation.

The government is forced to shut down the camps, and the detainees, including Layla and her parents, are freed. Layla's courage and defiance become the catalyst for a nationwide movement against bigotry and oppression, proving that even in the face of overwhelming odds, one voice can change the world.
Internment:
Genres
Fiction
Young Adult Fiction
Dystopian Fiction
Social & Political Themes
Romance
Internment:
Main Characters
Layla Amin: A courageous and rebellious teenager, Layla's unwavering spirit and determination to fight for justice are the heart of the story. Her refusal to stay silent in the face of oppression, as seen when she leads the rebellion, defines her character.
David: Layla's Jewish boyfriend, his loyalty and love for Layla are unwavering. His actions, such as risking his own safety to help Layla, demonstrate his commitment to their relationship and to the fight against injustice.
Ayesha: Layla's friend in the camp, Ayesha's bravery and wisdom are a source of strength for Layla. Her steadfast faith, even in the face of adversity, is a testament to her character.
Internment:
Themes
Resistance: The theme of resistance is central to the narrative, embodied in Layla's rebellion against the internment camps. Her actions, such as organizing protests and planning escapes, illustrate this theme.
Identity: The struggle for identity is a key theme, explored through the characters' experiences as Muslim Americans in a society that has turned against them. This is evident in Layla's determination to maintain her identity in the face of oppression.
Love: The theme of love is explored through Layla's relationship with David, showing that love can endure even in the harshest circumstances. Their relationship, which remains strong despite their separation, exemplifies this theme.
Hope: The theme of hope is a beacon that guides the characters through their darkest moments. Layla's unwavering hope for a better future, even in the direst of situations, embodies this theme.