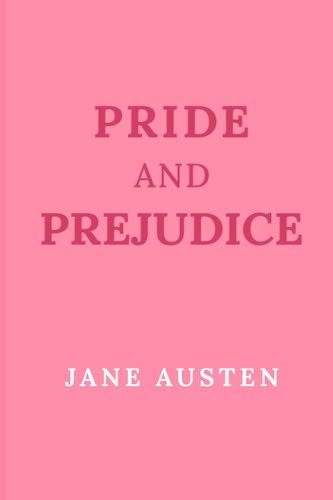 Date Published: January 28, 1813
Pride and Prejudice:
TL;DR Summary
Unearth an exquisite dance of wits and hearts, enveloped in a veneer of propriety in Jane Austen's magnum opus, 'Pride and Prejudice'.

Embark on a journey to the regency era England, specifically the quaint countryside of Hertfordshire, a world meticulously woven around social conventions and subtle satires.

Meet the spirited Elizabeth Bennet, second of five daughters in the middle-class Bennet family, whose fortune hangs in the tenuous thread of a well-married daughter. In this world, we encounter the dashing, yet seemingly aloof, Mr. Fitzwilliam Darcy, the epitome of pride, wealth, and aristocracy. This tale of love, understanding, and self-realization unfolds against the backdrop of rigid societal norms and expectations.

The pride of Mr. Darcy, along with the prejudice of Miss Elizabeth Bennet, adds a tantalizing complexity to their relationship. A series of misunderstandings, delicious verbal sparring, and societal pressures push these two compelling characters through a labyrinth of emotions, leading to a gratifying climax. 'Pride and Prejudice' is not merely a love story; it is a reflection of society, a critique of social constructs, a study in character, and above all, an exploration of human foibles and triumphs.
Spoilers (click here to reveal spoilers)
As the tale draws towards its conclusion, the labyrinth of misunderstandings and the many facades of pride and prejudice begin to untangle. Mr. Darcy, initially perceived as haughty, reveals a heart most generous, and our vivacious heroine, Elizabeth Bennet, overcomes her prejudice, recognizing the depth of his character. His selfless intervention to resolve the scandal involving Lydia, Elizabeth's youngest sister, showcases Darcy's deep and abiding love. The revelation of this act shatters Elizabeth's initial perception of Darcy, leading to her acceptance of his second, more humble proposal. The story culminates in a delightful symmetry with not one but two joyous unions: Jane, Elizabeth's elder sister, weds the affable Mr. Bingley, while Elizabeth and Mr. Darcy unite, signifying the triumph of love over societal constraints. Thus, Austen ties the narrative with a bow of happy resolution, leaving her readers basking in the afterglow of a story beautifully told.
Pride and Prejudice:
Genres
Fiction
Romance
Historical Fiction
Social Satire
Coming-of-age
Comedy of Manners
Pride and Prejudice:
Main Characters
Elizabeth Bennet: The intelligent, lively, and witty protagonist, Elizabeth possesses an independent spirit. She values truth, despises hypocrisy, as evident in her disdain for Mr. Collins' obsequiousness towards Lady Catherine.
Mr. Fitzwilliam Darcy: The wealthy and proud gentleman, Darcy values loyalty and integrity, exemplified by his enduring friendship with Mr. Bingley, and his care for his sister, Georgiana.
Jane Bennet: The eldest Bennet sister, Jane is kind, gentle, and sees the best in everyone, a testament to her forgiving attitude towards the manipulative Bingley sisters.
Mr. Charles Bingley: An affable and open-hearted gentleman, Mr. Bingley values friendship and honesty, demonstrated in his love for Jane, despite her lack of fortune.
Mr. Bennet: The Bennet family patriarch, Mr. Bennet values his peace of mind and has a keen sense of humor, often seeking solace in his library from his wife's social ambitions.
Pride and Prejudice:
Themes
Love versus Society: The struggle of personal desires against societal expectations is highlighted through Darcy and Elizabeth's romance.
Pride and Prejudice: The theme unfolds through Darcy's initial pride and Elizabeth's prejudice, which they overcome by the story's end.
Women and Marriage: Austen explores the limited options for women, focusing on marriage as a societal expectation and economic necessity, epitomized by the character of Charlotte Lucas.
Class and Social Status: Class divisions and the role they play in societal interactions are addressed through the relationships between characters of varying social ranks.