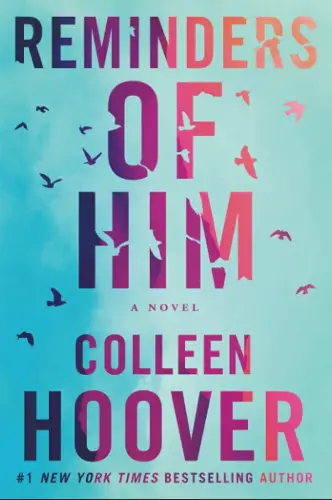 Date Published: January 18, 2022
Reminders of Him:
TL;DR Summary
Dive into a soul-stirring journey that will make your heart skip a beat. Reminders of Him by Colleen Hoover unravels the poignant tapestry of love, redemption, and second chances in the quaint town of Lake Quinault, Washington. With heartbreak and betrayal in her wake, the compelling Kenna Rowan returns to her small hometown, fresh out of prison, in pursuit of reclaiming her life. Fragments of the past, however, haunt her steps as she fights the demons within.

Through a kaleidoscope of emotions, Kenna encounters the unshakable bond she shared with her deceased love, Scotty. This fierce love, which was once the driving force of her existence, becomes an ever-present shadow, cast through the piercing gaze of their daughter, Diem.

Enter Ledger Ward, a striking and sensitive character who is Scotty's best friend, with a heart encased in ice, and a promise to keep Diem away from Kenna. As their paths intersect, a magnetic force pulls them together, while secrets and promises threaten to tear them apart.

Colleen Hoover masterfully weaves a tender and enthralling tale that dances between the raw pain of loss and the shimmering hope of redemption. Every page is an eloquent embrace that draws you into the lives of characters so real that their heartaches and triumphs become your own.

This is not just a story; it's an experience that will leave you contemplating the very nature of love and the transformative power of forgiveness.
Spoilers (click here to reveal spoilers)
In the breathtaking climax of Reminders of Him, Kenna and Ledger's delicate bond reaches its boiling point. The swirling tempest of their emotions culminates as they unveil their deepest secrets and acknowledge the intensity of their connection. Ledger unveils how Kenna's choices indirectly led to Scotty's death, which initially birthed his resentment. The tender yearning between them, however, begins to melt away the icy barriers. A bittersweet symphony of love, Ledger and Kenna realize the importance of forgiving not just each other, but themselves. Kenna, who finds solace in the love she begins to share with her daughter Diem, and Ledger, who finds peace in opening his heart once again, lay the foundations for a new beginning. Together, they build a future, not erasing their scars but honoring them as symbols of their metamorphosis. As Kenna's and Ledger's hearts entwine, the pages whisper of love's redemption and the boundless grace of second chances.
Reminders of Him:
Genres
Fiction
Romance
Contemporary Romance
Women's Fiction
New Adult
Reminders of Him:
Main Characters
Kenna Rowan: A young, determined woman haunted by her past. Kenna's journey from anguish to self-forgiveness is laced with strength and vulnerability. Her nurturing instinct is depicted when she seeks a relationship with her daughter, Diem.
Ledger Ward: Scotty's best friend, a stoic man with a wounded heart. He's bound by a promise to protect Diem. His loyalty shines when he struggles with his growing affection for Kenna, and his devotion to Scotty's memory.
Diem: Kenna's young daughter, a beacon of innocence and love. Diem's childlike faith in the goodness of people embodies hope and unconditional love.
Reminders of Him:
Themes
Redemption and Second Chances: Kenna's journey back from prison and rebuilding her life is an ode to the power of redemption. Ledger too finds a second chance at love.
Forgiveness: The characters grapple with forgiveness, particularly Kenna, who has to forgive herself for past mistakes.
The Impact of the Past on the Present: Kenna's past continues to influence her present, and how she and Ledger navigate this is central to their growth.
Love and Sacrifice: Kenna's sacrifice for her daughter, and Ledger's sacrifice in honoring his promise to Scotty, embody the depth of their love.
Motherhood: Kenna's journey of becoming a mother to Diem and forming a bond is a heartwarming exploration of motherhood.