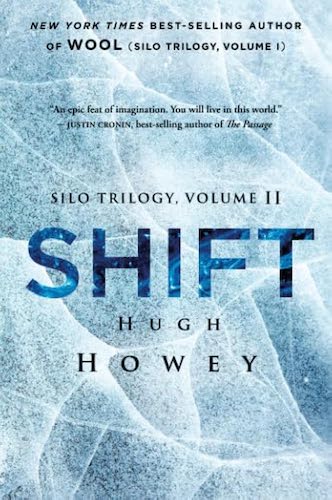 Date Published: January 28, 2013
Shift (Silo Series #2):
TL;DR Summary
You won't believe what's buried under your feet. "Shift" by Hugh Howey takes place in a series of underground silos that house what remains of humanity after a global catastrophe. In a world shrouded in secrets and half-truths, residents of these silos abide by laws written on an older Earth—one that suffered its fate for reasons largely forgotten. The silos are self-contained communities, functioning in isolation from each other, each governed by a Mayor and a Sheriff. In these enclaves, "cleanings" are carried out by individuals deemed expendable, sent to their deaths for asking questions or breaking the law, all to keep the machinery running and the air pure.

But what happens when the mechanics themselves question the very world they sustain? Enter Donald Keene, an architect in Silo 1 who learns the unsettling truths behind their subterranean existence. His life becomes entangled with a secret plan so old it predates the silos. Troy, the sleeping shift leader, awakens for his shift only to realize something is amiss. There's also Mission, a mechanic in Silo 17, where things operate far from the norm. Their intertwined fates point towards a larger narrative, one concerning the origins of their dark, constrained world and a future that might yet offer a glimmer of hope.

Above all, "Shift" explores the paradox of control and freedom, poking at the very fabric of human nature. Are we the architects of our destiny or the puppets of an ancient script? By revealing the origins and inner workings of the silos, the book pulls back the curtain on a horrifying yet strangely familiar world.
Spoilers (click here to reveal spoilers)
In a crushing twist, Donald—now the last awakened survivor in Silo 1—realizes that he had been instrumental in creating the very world that ensnared him. The silos were initially meant to be temporary havens for humanity, part of a larger plan to cleanse the Earth. But they became perpetual tombs due to human error and shortsightedness. He learns of Silo 18's uprising and Juliette's escape to the surface, piecing together a new path for the future. Realizing the potential for change, he makes a self-sacrificial decision. He triggers the destruction of Silo 1, severing its control over the other silos. In doing so, he opens the door for humanity's rebirth, but not without a cost. His own life extinguishes like a tiny flame in a world eager to emerge from darkness.
Shift (Silo Series #2):
Genres
Fiction
Science Fiction
Dystopian
Post-apocalyptic
Technological thriller
Psychological Thriller
Survival Literature
Social and Political Commentary
Social Science Fiction
Shift (Silo Series #2):
Main Characters
Donald Keene: An architect and politician, values loyalty and duty. He grapples with the morality of the silos, ultimately choosing humanity over the system.
Troy: The sleeping leader of Silo 1 during his shift, embodies institutional loyalty but is plagued by existential angst.
Mission: A mechanic in Silo 17, values community and pragmatism. Works tirelessly to maintain the silo's deteriorating machinery and tends to the human needs around him.
Shift (Silo Series #2):
Themes
Control vs Freedom: The silo's strict regulations are meant to protect, but they also imprison. Donald's internal struggle exemplifies this duality.
Human Nature: Explores what people are capable of when pushed to the limits—both destructive and constructive—as seen through Mission's efforts in Silo 17.
Secrets and Lies: The foundational myths and taboos of the silo world preserve a form of stability, but at the expense of truth, as Donald discovers.
Sacrifice: Several characters must make harrowing choices for the greater good, such as Donald's ultimate act of blowing up Silo 1.
Hope and Redemption: Despite the dark backdrop, the story is imbued with a cautious optimism that humanity may overcome its worst instincts, seen in the emerging changes across the silos.