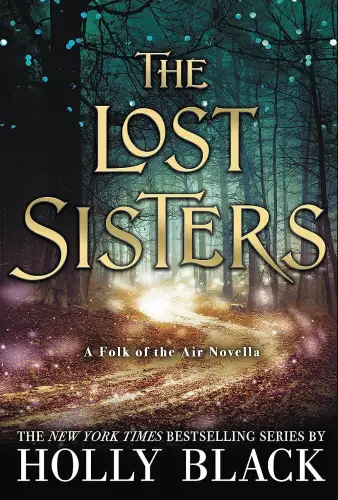 Date Published: October 2, 2018
The Lost Sisters: The Folk of the Air:
TL;DR Summary
Unlock the secrets that lurk in the shadows of the faerie world! In "The Lost Sisters" by Holly Black, the story unfolds in the enchanting and perilous world of Elfhame. It's a tale spun with threads of betrayal, longing, and revenge.

Told from the perspective of Taryn, the narrative dives deep into her emotions, choices, and the consequences that ripple through her life and the lives of those around her.

The novella offers a new lens to view the events that readers encountered in "The Cruel Prince," providing depth and insight into Taryn's character and the intricate world of Elfhame. The story weaves a rich tapestry of faerie lore, exploring the complexities of sisterhood, love, and the heavy cost of decisions made.
Spoilers (click here to reveal spoilers)
In the climactic conclusion, Taryn's journey of self-discovery reaches its peak. The choices she makes, driven by love and desperation, lead her down paths that are irrevocable and impactful. The ending unravels the tangled web of her relationships, laying bare the truths she had been running from. It's a poignant finale, filled with revelations that reshape her understanding of love, loyalty, and self-worth.
The Lost Sisters: The Folk of the Air:
Genres
Fiction
Fantasy
Young Adult Fantasy
Dark Fantasy
Romance Fantasy
Coming of Age Novel
The Lost Sisters: The Folk of the Air:
Main Characters
Taryn: The protagonist, a mortal girl in the faerie world, whose journey is marked by her struggle with her desires and the moral dilemmas they bring. Her love for Locke, a faerie, showcases her vulnerability and the lengths she is willing to go for love.
Jude: Taryn's twin sister, a fierce and determined individual. Her unwavering courage and ambition contrast with Taryn's internal turmoil.
Locke: A faerie who entangles Taryn in a web of love and deceit, highlighting the blurred lines between love and manipulation in the faerie world.
The Lost Sisters: The Folk of the Air:
Themes
Love and Betrayal: The story delves into the theme of love intertwined with betrayal, as seen in Taryn's relationship with Locke, showcasing the pain and confusion that accompanies such entanglements.
Sisterhood: The bond between Taryn and Jude is explored, highlighting the complexities of sisterhood, loyalty, and the impact of individual choices on this sacred relationship.
Self-Discovery: Taryn's journey is also one of self-discovery, as she navigates the challenges and revelations that ultimately shape her understanding of herself and her place in the world.
The Lost Sisters: The Folk of the Air