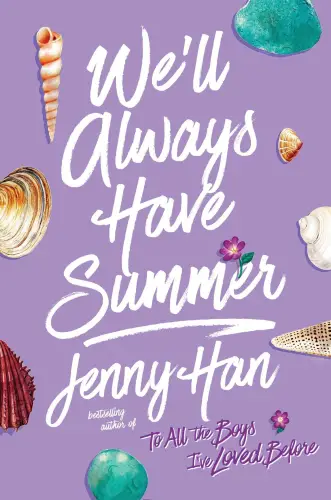 Date Published: 2011
We'll Always Have Summer:
TL;DR Summary
Warning: This love triangle will give you ALL the feels! In We'll Always Have Summer, the third and final installment in Jenny Han's charming Summer I Turned Pretty Trilogy, readers are whisked away to the enchanting shoreline of Cousins Beach. The sea breezes carry whispers of love, heartbreak, and secrets as Isabel "Belly" Conklin finds herself torn between two brothers, Jeremiah and Conrad Fisher. As summer kisses turn into something more, Belly's heart throbs with both nostalgia and the uncertainty of a future shaped by choices.

Belly, now in college, thought her heart belonged to Conrad, but life is never as simple as the tides. Jeremiah, her steadfast friend turned boyfriend, has won her over with his warmth and affection. They are happily in love—or are they? Belly's heart still flutters when Conrad is near.

Belly's world turns upside down when Jeremiah proposes. Should she commit to a lifetime with Jeremiah, even as her heart calls out for Conrad? The Fisher family, including their mother, who has been like a second mom to Belly, are thrown into the whirlwind of wedding preparations. This isn't just Belly's love story; it's a tapestry woven with the threads of friendships that have stood the test of summers and the shadows of loss.

Jenny Han's lyrical prose makes each page sparkle like sunlight on the ocean. The summer, with its lazy days and stolen kisses, is the backdrop for Belly's bittersweet symphony of love. Will she listen to her heart or risk losing herself? Dive into this ocean of emotions and find out.
Spoilers (click here to reveal spoilers)
Grab your tissues because this heartrending finale will leave you breathless! In the soul-stirring conclusion of We'll Always Have Summer, Belly is forced to confront the depth of her feelings. Her heart breaks as she admits to Jeremiah that she cannot marry him. She knows deep within that her soul is entwined with Conrad's.

As the waves crash onto Cousins Beach, Belly and Conrad share a bittersweet reunion. They confess their love for each other, and it feels like a thousand summers are embracing them. Their love story is not just about this moment; it is about the countless summers that shaped them.

Though filled with tears and heartache, Belly's decision to follow her heart sets her free. The book closes with her and Conrad stepping into a future that is uncertain, but rich with possibilities and bound by the love that has grown through the summers at Cousins Beach.
We'll Always Have Summer:
Genres
Fiction
Young Adult Fiction
Coming of Age
Romance
Family Drama
Contemporary Fiction
We'll Always Have Summer:
Main Characters
Isabel "Belly" Conklin: A young, vivacious woman caught in a love triangle. She values love, friendship, and honesty. For example, she ultimately chooses to be true to her heart by confessing her love for Conrad.
Jeremiah Fisher: The outgoing and affectionate younger brother of Conrad. He is a comforting presence in Belly's life but also impulsive. He values loyalty and is heartbroken when Belly calls off their engagement.
Conrad Fisher: The brooding and introspective older brother, Conrad is reserved but deeply caring. He values family and sacrifice, as shown when he keeps his feelings for Belly hidden to not hurt Jeremiah.
We'll Always Have Summer:
Themes
The Complexity of Love: This book explores the complicated nature of love through Belly's relationships with Jeremiah and Conrad.
Coming-of-Age: Throughout the series, and particularly in this final book, Belly undergoes significant personal growth as she grapples with adult decisions.
Family and Friendship: The deep bonds between Belly and the Fisher family are central to the story, demonstrating how friendships can become as strong as family ties.
Choices and Consequences: Belly's choice between Jeremiah and Conrad, and the consequences of that choice, reflect the theme of making life-altering decisions.
Nostalgia and Memory: The series is drenched in nostalgia, as Belly often reflects on past summers and how they have shaped her present.