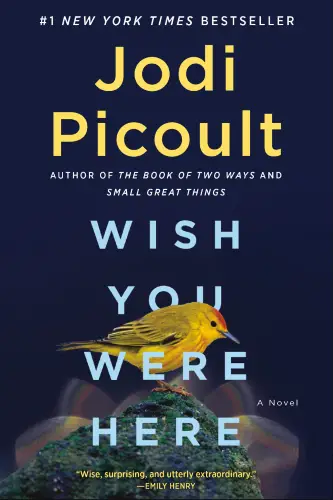 Date Published: November 25, 2021
Wish You Were Here: A Novel:
TL;DR Summary
Discover a world where love, ambition, and survival intertwine in the midst of a global crisis. Set against the breathtaking backdrop of the Galapagos Islands, "Wish You Were Here" by Jodi Picoult unveils the tale of Diana, an ambitious art aficionado from New York. Dreaming of a romantic escape with her boyfriend, Finn, Diana's plans are thwarted when he's called to the frontline of the COVID-19 battle.

Alone on Isabela Island, what was meant to be a two-week paradise turns into an introspective journey. As the world grapples with the pandemic, Diana finds solace in the island's beauty, bonds with the locals, and confronts her own life's intricacies. With each passing day, the distance between Diana and Finn grows, not just in miles but in understanding, as they navigate the challenges of love in unprecedented times.
Spoilers (click here to reveal spoilers)
As the narrative unfolds, Diana's island sojourn takes a surreal turn. Caught in a riptide, she awakens to find herself not in the Galapagos, but in the U.S., revealing that her entire island experience might have been a dream or an alternate reality. This twist leaves readers pondering the boundaries of perception, reality, and the human mind's coping mechanisms during crises.
Wish You Were Here: A Novel:
Genres
Fiction
Contemporary Fiction
Romance
Psychological Fiction
Wish You Were Here: A Novel:
Main Characters
Diana: An ambitious New Yorker working in art acquisitions. Values ambition and dedication. When stranded on the island, she immerses herself in understanding the local culture and self-reflection.
Finn: Diana's boyfriend, a committed doctor at New York-Presbyterian Hospital. Values duty and care. Even in their separation, he communicates the grim realities of the pandemic to Diana through emails.
Gabriel: A local from the Galapagos Islands whom Diana gets close to. Values family and tradition. He becomes a significant part of Diana's island experience, offering her a different perspective on life.
Beatriz: Gabriel's daughter, struggling with her identity. Values honesty and self-acceptance. Her interactions with Diana shed light on the universal challenges of youth, irrespective of geography.
Wish You Were Here: A Novel:
Themes
Love and Separation: Diana and Finn's relationship is tested by physical distance and the emotional toll of the pandemic. Their story exemplifies the strain many relationships underwent during the crisis.
Self-Reflection: Stranded in a foreign land, Diana introspects her life choices, career, and relationships, highlighting the theme of self-discovery during isolation.
Reality vs. Perception: The twist in the narrative challenges the reader's understanding of reality, emphasizing the mind's ability to create alternate realities as a coping mechanism.
Cultural Exploration: Diana's interactions with the locals, especially Gabriel and Beatriz, underscore the richness of the Galapagos culture and the universality of human emotions and challenges.
Wish You Were Here: A Novel