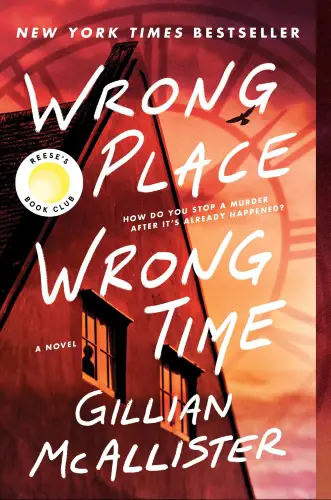 Date Published: May 12, 2022
Wrong Place Wrong Time:
TL;DR Summary
A Mother's Race Against Time: Unravel the Mystery That Could Save Her Son! In the bustling city of Liverpool, Jen Brotherhood, a successful lawyer, faces a nightmare that defies reality. Her son, Todd, is arrested for murder, but the next morning, the crime hasn't happened yet. Caught in a time spiral, Jen moves backward in time, uncovering clues that explain her son's actions. From the discovery of a criminal organization to the unraveling of family secrets, Jen's journey is a thrilling ride through time, love, and betrayal.

Will she be able to prevent the murder and save her family? "Wrong Place Wrong Time" is a gripping tale that will keep you on the edge of your seat, questioning the very fabric of time and the choices we make.
Spoilers (click here to reveal spoilers)
In a breathtaking twist, Jen's investigation reveals that her husband, Kelly, is actually a retired undercover cop named Ryan Hiles. The man Todd killed, Joseph Jones, was the ringleader of a crime ring that Kelly had testified against. Jen's time leaps allow her to prevent a car theft involving a baby named Eve, altering the course of events. In the new present, Kelly remains a cop, and Todd finds love with Eve Green. The story concludes with a profound understanding of destiny, choices, and the intricate web of connections that bind us all.
Wrong Place Wrong Time:
Genres
Fiction
Thriller
Murder Mystery
Time Travel Adventure
Wrong Place Wrong Time:
Main Characters
Jen Brotherhood: A determined and loving mother, values family and justice; unravels the mystery of her son's actions through time travel.
Todd Brotherhood: Jen's 18-year-old son, values loyalty and innocence; commits a murder that sets the story in motion.
Kelly/Ryan Hiles: Jen's husband, values integrity and protection; his double life as an undercover cop is a central revelation.
Joseph Jones: The criminal organization's ringleader, values power and revenge; his murder by Todd is the catalyst for the story.
Wrong Place Wrong Time:
Themes
Time and Destiny: Explores the concept of time travel and how altering past events can change the present; Jen's journey through time.
Family Secrets and Betrayal: Unveils hidden truths within a family, leading to shock and understanding; Jen's discovery of her husband's true identity.
Justice and Redemption: Examines the pursuit of justice and the possibility of redemption; Todd's murder and Jen's efforts to prevent it.
Love and Connection: Highlights the bonds of love and the connections that shape our lives; the relationship between Jen, Todd, and Kelly.