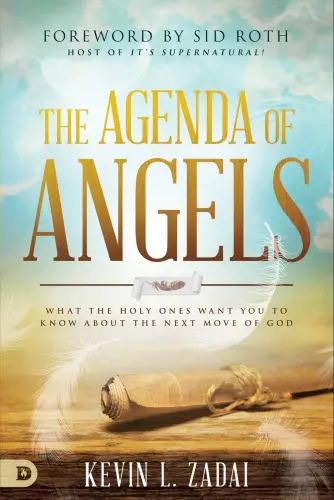 Date Published: January 1, 2019
The Agenda of Angels:
TL;DR Summary
Unlock the Celestial World and Unleash Your Destiny! This is not just a hook; it's the essence of Kevin L. Zadai's riveting book, "The Agenda of Angels." Kevin's transcendent journey into the spiritual realm reveals the covert agenda of angels in the earth's timeline. As you dive into these pages, prepare to have your spiritual eyes opened wide! Zadai, a man who had a life-altering encounter with Jesus himself, decodes the spiritual realm in a riveting manner, enabling readers to comprehend the roles angels play in God's plan for humanity.

Do you believe in angels? Even if you're skeptical, this book will challenge your perspective! Zadai postulates that angels are not just heavenly beings but divine messengers and warriors, who have a crucial role in shaping history and the lives of individuals. He encourages believers to engage in a deeper relationship with the spiritual realm to understand the angelic operations. Through real-life experiences and biblical insights, Zadai emphasizes the importance of alignment with God's will to activate angelic intervention.

What if you could partner with these heavenly beings to bring about God's plans in your life and the world? Imagine the possibilities! This book reveals that the key to unlocking this divine partnership is in understanding God's dominion mandate for mankind and being privy to the secret strategies of the angelic realm.

Zadai's unique revelations shine a light on misunderstood scriptures, helping readers to walk in spiritual discernment and authority. Through practical steps, he guides you into an empowered walk with God, with angels as allies.

Get ready to embark on an exhilarating adventure that transcends the natural world! Your faith will be invigorated as you learn to discern the agendas of angels and demons, paving the way for victory in spiritual warfare.
The Agenda of Angels:
Genres
Non-fiction
Religion & Spirituality
Christian Living
Christian Theology
Angelology & Demonology
Personal Growth & Christianity
Spiritual Warfare
The Agenda of Angels:
Themes
The Existence and Role of Angels: Kevin explores the biblical foundation for the existence of angels and the pivotal roles they play in God's plan.
Divine Partnership: The book emphasizes the potential of forming a partnership with angels through alignment with God's will and understanding their heavenly operations.
Spiritual Discernment: Kevin discusses the importance of discernment in distinguishing between angelic operations and demonic activities.
Dominion and Authority: This theme highlights the believer's authority in Christ and how it plays a part in the interaction with the angelic.
Spiritual Warfare: The book delves into the reality of spiritual warfare and the role angels play in fighting against demonic forces.