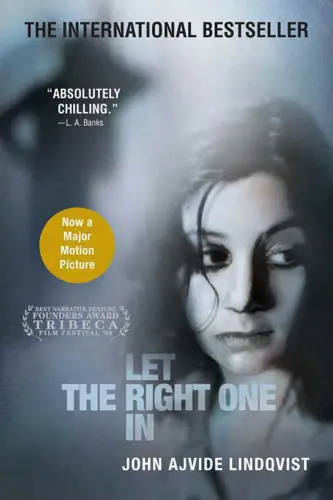 Date Published: 2004
Let the Right One In:
TL;DR Summary
Sink your teeth into a tale as chilling as a Swedish winter. In "Let the Right One In" by John Ajvide Lindqvist, the biting cold of Blackeberg, a suburb of Stockholm, hides a darkness far deeper than the shadows cast by the night. The year is 1981, and under the relentless Scandinavian chill, 12-year-old Oskar is growing up. He is an isolated, tormented soul; his days filled with dreams of sweet revenge against his relentless bullies, his nights with the company of a knife.

One snowy night, an enigmatic stranger, Eli, moves into Oskar's apartment complex. Pale as snow and forever clad in layers despite the cold, Eli carries an otherworldly air. A friendship tentatively blooms between Oskar and Eli, as the secrets that shroud Eli begin to unravel. In Eli, Oskar finds solace; and in Oskar, Eli finds an echo of a life long lost.

As their bond deepens, the somber streets of Blackeberg are set afire with a series of gruesome murders. The scent of blood thickens the air, and whispers of a haunting lore infiltrate the silent nights. The mundane meets the macabre, as innocence entwines with the sinister. Through this chilling tale, Lindqvist masterfully blurs the boundaries between humanity and monstrosity.

In every crack of frozen ground and every drop of blood spilled, "Let the Right One In" pulses with an unsettling beat - it is an enthralling mosaic of horror, humanity, and the harrowing loneliness that binds and breaks us.
Spoilers (click here to reveal spoilers)
In the blood-soaked climax of "Let the Right One In", humanity battles the unearthly. Eli, revealed as a centuries-old vampire trapped in a child's form, fights to protect Oskar. As Oskar's tormentors lay a trap for him at the local pool, the night is rent by screams and bloodshed, as Eli tears through them with supernatural ferocity to save his friend. In the end, it is not just the blood of the bullies that stains the waters, but the death of Oskar's innocence.

Oskar and Eli find themselves bound inextricably, as two lonely souls seeking solace and kinship. They choose each other over the world they can never truly belong to, and flee Blackeberg together on a train, leaving behind the blood and the frost, but carrying with them the darkness they share.
Let the Right One In:
Genres
Fiction
Horror
Gothic Fiction
Romance
Coming-of-Age
Let the Right One In:
Main Characters
Oskar Eriksson: A sensitive and lonely 12-year-old boy, bullied at school, who seeks revenge through violent fantasies. His isolation melts when he meets Eli. His value lies in his desperate need for companionship.
Eli: An ancient vampire trapped in a 12-year-old's body. She values survival and forms a bond with Oskar. Her dual nature as a monster yet capable of tenderness is evident when she protects Oskar at great risk.
Håkan Bengtsson: A disturbed man who is Eli's caretaker and servant, procuring blood for her. His twisted sense of loyalty leads him to commit gruesome acts.
Let the Right One In:
Themes
Loneliness and Companionship: The book portrays the loneliness of the characters, especially Oskar and Eli, and how they find companionship in each other, providing solace from their isolated worlds.
Loss of Innocence: Oskar's journey from a naive boy to someone aware of the darker aspects of life, culminating in the gory climax, symbolizes his loss of innocence.
The Nature of Monstrosity: Through Eli's character, the book explores what it means to be a monster and the thin line between human and inhuman. For example, Eli's savage need for blood is juxtaposed with her tender affection for Oskar.
The Consequences of Bullying: Oskar's desire for revenge and his subsequent actions show the lasting consequences of bullying and the toll it takes on an individual's psyche.