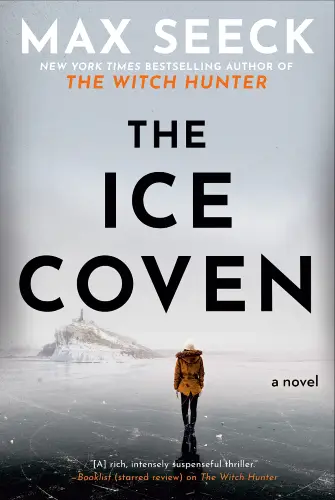 Date Published: September 16, 2021
The Ice Coven:
TL;DR Summary
Beneath the chilling winds of Finland, a tempest brews in the form of The Ice Coven, a gripping narrative that intertwines murder, witchcraft, and the darkest corners of the human psyche.

Investigator Jessica Niemi returns, six months after her harrowing encounter with a serial-killing coven of witches and the death of her mentor. She and her newly-led homicide squad are given a murder case and a series of disappearances to investigate.

A woman's corpse washes up on an icy beach, bearing strange markings, and two famous Instagram influencers vanish simultaneously. All have ties to a sinister cult. Unsettling evidence surfaces, including a grim poem under an eerie painting, leading Jessica to question her past, her nightmares, and the cryptic messages from the dead. As the story unfolds, her horrific past threatens to consume her​.
Spoilers (click here to reveal spoilers)
As Jessica and her team race against time to find the missing influencers, she is also battling her personal demons. She carries the weight of her past, plagued by mental and physical ailments from a life-altering accident. Erne, before his death, encouraged her to trust and open up to her team. Jessica must now decide who to trust as a ruthless psychopath aims to thwart her from revealing the truth in her latest case. To add to the suspense, the witch cult that nearly destroyed her resurfaces towards the end, promising more chills in the upcoming books​.
The Ice Coven:
Genres
Crime
Thriller
Mystery
Fiction
Nordic Noir
Finnish Literature
Mystery Thriller
Suspense
The Ice Coven:
Main Characters
Jessica Niemi: A hardboiled female investigator who has the readers' sympathy due to her unique approach to cases. In this book, we learn more about Jessica's past, including an adventure in Italy with a man named Colombano.
Helena "Hellu" Lappi: The new Violent Crime Units Superintendent, who replaces Jessica's friend and mentor, Erne. There is visible tension between Hellu and Jessica.
Rasmus, Yusuf, and Nina: Seasoned detectives facing personal and emotional challenges in the fallout of the previous case.
Lisa Yamamoto and Jason Nervander: Popular Finnish Instagram influencers who go missing​.
The Ice Coven:
Themes
Intrigue and Mystery: The central storyline revolves around the investigation into a series of disappearances and a murder, with Jessica finding an eerie painting and a gruesome poem that seem to be connected to the crime. There is also a sinister cult involved, adding another layer of mystery to the plot​.
Personal Struggles and Mental Health: Jessica continues to struggle with nightmares about her mother and the witchcraft that affected her. She also grapples with feelings of guilt about hiding her real life, one of wealth and privilege, from her team. Jessica's mental and physical ailments continue to plague her, a result of a tragic accident that claimed the lives of her entire family​.
Workplace Dynamics: The book explores the dynamics within Jessica's homicide squad, which is now under new leadership. There is tension between Jessica and the new superintendent, Hellu, and Jessica also has to navigate the fallout from a romantic entanglement with her colleague's boyfriend​.
Past Coming Back: Jessica's horrific past comes back to haunt her in the form of a witch cult, which threatened to destroy her several months ago. This past resurfaces as Jessica investigates the current cases, adding another layer of complexity and suspense to the narrative​.