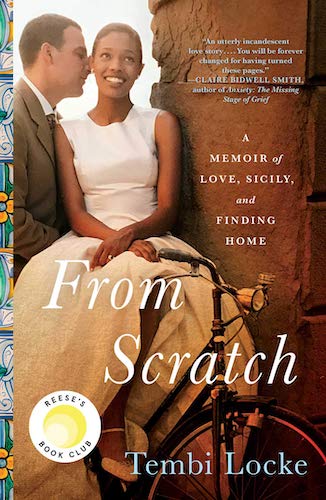 Date Published: April 30, 2019
From Scratch:
TL;DR Summary
Unlock the heartfelt journey in 'From Scratch: A Memoir of Love, Sicily, and Finding Home' by Tembi Locke that meanders through love, loss, resilience, and mouthwatering Sicilian cuisine. The tale unfurls in the sun-drenched landscape of Sicily, Italy, cradled in its history-rich contours.

This memoir takes you on a life-altering voyage with me, Tembi, an African American actress. I navigate through the uncharted territories of interracial love with Saro, a Sicilian chef, facing opposition from his traditional family, only to be embraced by them eventually.

However, this blend of sweet and bitter turns poignantly sour when Saro succumbs to cancer, leaving me a single mother to our young daughter, Zoela. The memoir continues as a testament to resilience as I grapple with the challenges of widowhood, navigating grief while fulfilling my promise to Saro to reconnect Zoela with her Sicilian heritage. Alongside, the book indulges you in enchanting vignettes of Sicilian culture, people, and its delectable cuisine, serving as a vital leitmotif.
Spoilers (click here to reveal spoilers)
From Scratch: A Memoir of Love, Sicily, and Finding Home" culminates in a moment of poignant introspection and bittersweet realization. After navigating the turbulent waters of grief, loneliness, and an arduous journey of self-discovery, I, Tembi, finally find a sense of closure. My daughter, Zoela, and I immerse ourselves in the enchanting world of Sicilian culture and gastronomy, fulfilling the promise I made to Saro. As we knead pasta dough and share laughter with Saro's family, we find pieces of him in the Sicilian winds and the fragrant Italian dishes we prepare. These experiences foster a profound connection between Zoela and her father's heritage. In the process, I learn to love, lose, and love again. The memoir concludes with the comforting notion that in loss, there is a gain— a connection, a heritage, and a home that remains invincible and eternal.
From Scratch:
Genres
Memoir
Biography
Travel
Cultural
Cooking
From Scratch:
Main Characters
Tembi Locke: A resilient, nurturing mother and widow, I unravel a strong dedication to preserving my late husband's heritage for our daughter, evident in my diligent attempts to learn Sicilian cooking.
Saro: A passionate Sicilian chef and loving husband and father, his enduring love for his family and his roots are beautifully captured in his dedication to sharing his culinary knowledge.
Zoela: The young daughter of Tembi and Saro, she embodies adaptability and innocence, reflected in her seamless embrace of her Sicilian heritage.
Saro's Sicilian Family: Initially traditional and disapproving, their transformation to embracing and loving their American kin delineates the power of love and acceptance.
From Scratch:
Themes
Love and Loss: The book navigates the profound experience of love and the subsequent void left by loss, illustrated through my relationship with Saro and the aftermath of his death.
Resilience: My ability to heal, adapt, and honor my late husband's legacy for Zoela signifies the theme of resilience.
Cultural Exchange: The journey of experiencing and assimilating into Sicilian culture reflects the importance of cultural exchange.
Gastronomy: Sicilian food is not just a culinary delight but serves as a catalyst for emotional healing, connection, and memory preservation.
Identity and Belonging: My efforts to connect Zoela with her Sicilian roots and the final sense of belonging I achieve in Sicily portray the quest for identity and the concept of home.