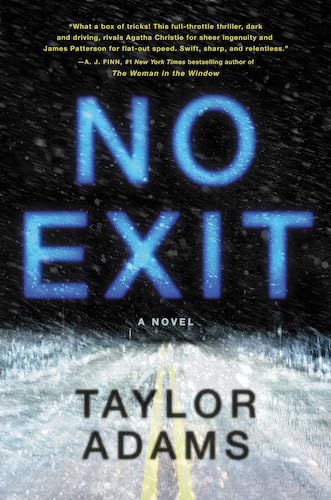 Date Published: June 28, 2017
No Exit:
TL;DR Summary
Stranded in a snowstorm? Bad. Being hunted inside a highway rest stop with no way out? Welcome to hell." In "No Exit", a lone rest stop in the Colorado Rockies becomes a theater of suspense and survival for a group of strangers.

Darby Thorne just wanted to make it home for Christmas, but when a blizzard strikes, she's forced to hunker down for the night with four others. But this is no ordinary layover: Darby discovers a kidnapped girl hidden in the back of a van. Now, she faces an agonizing dilemma—find out who among them is the kidnapper, without becoming the next victim. As the hours tick by and the storm rages on, alliances form, secrets emerge, and Darby must summon every ounce of her wit and courage to outsmart a cunning villain. A sleepless night turns into a game of cat and mouse, and one thing becomes crystal clear—there's no exit, and someone won't make it till morning.
Spoilers (click here to reveal spoilers)
The unforgiving blizzard outside has nothing on the storm brewing within the rest stop. As the night edges toward dawn, Darby finally unveils the kidnapper and orchestrates a heart-stopping showdown. But here's the kicker: there are deeper, darker secrets lurking in the snow. Darby learns that sometimes the most dangerous monsters wear the face of those we trust. She makes a devastating choice, one that cements her transformation from a scared college student into a ruthless survivor. When the first light of Christmas morning breaks, not everyone leaves the rest stop alive, but Darby walks away forever changed.
No Exit:
Genres
Fiction
Thriller
Psychological Thriller
Suspense
Crime Fiction
No Exit:
Main Characters
Darby Thorne: A sharp-witted college student with a knack for problem-solving. Values family and risks her life to save a kidnapped child.
Ed: A seemingly kind older man who holds a dark secret. Values self-preservation above all, even if it means sacrificing others.
Ashley: A chatty and charming woman who keeps a confident exterior but has a vulnerable side. Values her own well-being, shown when she deceives others to protect herself.
Lars: A quiet and stoic individual with military background. Values justice and attempts to maintain order among the group.
No Exit:
Themes
Survival: The desperate need to survive pushes characters to their ethical and emotional limits, evident in Darby's transformation.
Trust and Deception: The ever-shifting alliances and betrayals highlight the fragility of trust, as seen when Darby's trust in Ed is shattered.
Moral Ambiguity: Characters grapple with murky ethical choices, such as Darby's decision to confront the kidnapper despite the risks.
Transformation: The characters undergo significant changes due to extreme circumstances, especially Darby, who evolves from naive to cunning and resolute.