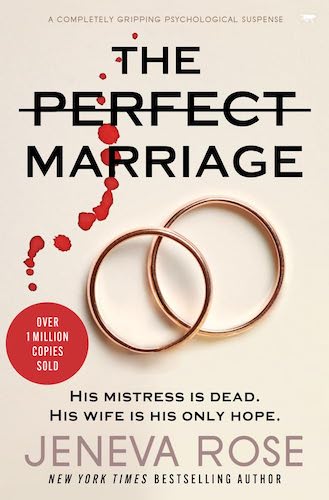 Date Published: July 3, 2020
The Perfect Marriage:
TL;DR Summary
Ready for the twist of a lifetime? Step into the world of "The Perfect Marriage," a rollercoaster of betrayal and secrets set in the power corridors of Washington, D.C., and a secluded lake house in Prince William County, Virginia. Meet Sarah Morgan, a top-notch defense attorney, juggling courtroom triumphs and a rocky marriage with Adam Morgan, an author still waiting for his big break. When Adam's secret lover, Kelly Summers, turns up dead, viciously stabbed 37 times at their lake house, Sarah takes on the most personal case of her life: defending her own husband.

But nothing is as it seems. Kelly, a waitress in her past life, was not just any woman. She was previously Jenna Way, accused of murdering her former husband in Wisconsin and now married to a local cop. Layers of deception peel away as Sarah navigates a labyrinthine trial, shadowy figures, and shocking revelations, including unexplained DNA evidence. Will Sarah's legal prowess be enough to save Adam, or is their marriage doomed along with Adam's life? Get ready to lose sleep, as every chapter reveals a puzzle piece you didn't know was missing.
Spoilers (click here to reveal spoilers)
In a heart-stopping finale, it is revealed that Sarah masterminded the perfect crime. Sarah collaborated with a member of her law firm to kill Kelly Summers and frame her own husband. She deftly weaves a narrative to ensnare Adam, even while appearing to fight for his innocence. Adam is sentenced to death, clueless to the end that the woman he married orchestrated his downfall. As he faces execution, Sarah's chilling revelations tumble out. She leaves the execution chamber, not a grieving widow but a triumphant woman, poised to marry her co-conspirator the next day. The book ends with Sarah's dark satisfaction, leaving readers utterly astonished.
The Perfect Marriage:
Genres
Fiction
Psychological Thriller
Legal Thriller
Domestic Thriller
Suspense
Crime Fiction
Courtroom Drama
Family Drama
Mystery Thriller
The Perfect Marriage:
Main Characters
Sarah Morgan: A cunning and fiercely intelligent defense attorney, prioritizes her career over her marital life. Defends Adam, ostensibly to save him.
Adam Morgan: A struggling author, emotionally vulnerable, seeking validation outside his marriage. Turns to Kelly Summers for comfort and ultimately pays the price.
Kelly Summers/Jenna Way: A woman of multiple identities. Marries local policemen while claiming abuse, casting doubt on her credibility.
Nicholas Robert ("Bob") Miller: A law firm colleague with a vendetta against Kelly, becomes Sarah's co-conspirator in the murder scheme.
The Perfect Marriage:
Themes
Betrayal: Sarah's ultimate betrayal of Adam, who thought she was defending him.
Identity and Deception: The layered identities of Kelly Summers, who is not who she seems to be.
Justice and Morality: Adam's trial explores the balance of justice when you don't know whom to trust.
Marital Strain: Both Sarah and Adam grapple with dissatisfaction in their marriage, leading them down dangerous paths.
Power and Manipulation: Sarah uses her legal expertise and cunning to craft a nearly foolproof scheme, manipulating the legal system to her advantage.