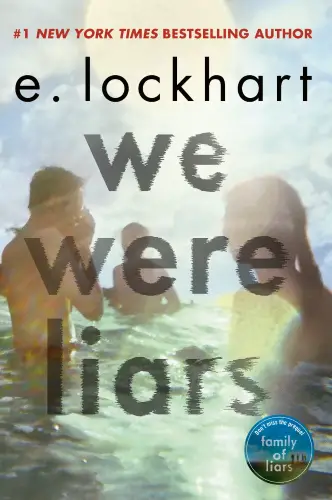 Date Published: May 13, 2014
We Were Liars:
TL;DR Summary
Hold your breath because We Were Liars by E. Lockhart is a storm about to crash into your soul. Enveloped in a shroud of enigmas, the Sinclairs, a grand and privileged family, holiday every summer on a private island cloaked in riches and secrets, off the coast of Massachusetts. Cadence Sinclair Eastman, our tormented but vivacious protagonist, guides us through twisted paths of memory and deception. Be warned, as Cady is not a trusty cartographer, but a lost wanderer herself.

The glittering water and golden beaches conceal a mystery that Cady's fractured mind can't piece together. As we dive into the sun-kissed realm, we befriend the "Liars," including Cady, her cousins Johnny and Mirren, and the outsider, Gat. These four are knotted together, inseparable and fierce as they build castles from the sands of their youth. A gossamer tapestry of nostalgia and pain binds the Sinclairs, whose facades are as polished as their ivy-league degrees. But when the threads of the past snap, can Cady unravel the truth before it consumes her? Written with prose that dances on the precipice of poetry, E. Lockhart's We Were Liars is a mesmerizing waltz through the shadows of a memory in shambles.
Spoilers (click here to reveal spoilers)
Brace yourself, for the tempest of truth is unrelenting. The shattered fragments of Cady's memory, as the pages turn, reveal a cataclysmic secret. The Liars, in a blaze of rebellion against their family's materialism and greed, set fire to Clairmont, the focal house of Sinclair gatherings. But the fire roars beyond control, claiming the lives of Johnny, Mirren, and Gat. Cady's "lost" summer is a shrouded mourning - her mind protecting her from the staggering knowledge that she was complicit in their deaths.

The Liars she loved, who roamed the island beside her, were phantoms, lingering in the shadows of her fractured psyche. The truth ravages her soul like a tempest on the sea, leaving her to grapple with guilt, loss, and the specters of what can never be again.
We Were Liars:
Genres
Fiction
Young Adult
Mystery
Psychological Thriller
Contemporary
We Were Liars:
Main Characters
Cadence Sinclair Eastman: A sentimental and artistic soul, Cady grapples with memory loss and migraines. She values love and loyalty, as seen through her deep bond with the Liars.
Gat Patil: Intelligent and introspective, Gat is an outsider amongst the Sinclairs. He values justice and speaks out against the family's entitlement, often gifting Cady books to broaden her perspective.
Johnny Sinclair: Impulsive and charismatic, Johnny is Cady's beloved cousin. He values adventure and camaraderie, often being the one to instigate the Liars' escapades.
Mirren Sinclair: Cady's cousin, Mirren is effervescent and nurturing. She values family and kindness, often acting as a voice of reason amongst the Liars.
We Were Liars:
Themes
Memory and Trauma: Cady's unreliable memory reflects how the mind shields itself from trauma, as she cannot remember the tragedy that took her friends' lives.
Greed and Materialism: The Sinclair family's obsession with wealth and status symbolizes the hollowness of material possessions, as epitomized by the family's inheritance squabbles.
Love and Friendship: The Liars' bond represents the purity of young love and friendship, untainted by the adult world's vices.
Identity and Change: Cady's journey of self-discovery reflects the fluidity of identity, as she realizes who she is beyond her family name and struggles with the ramifications of her actions.
Loss and Grief: The mourning that shrouds the narrative encapsulates the all-consuming nature of grief and how it shapes one's reality, as Cady navigates a world without her friends.