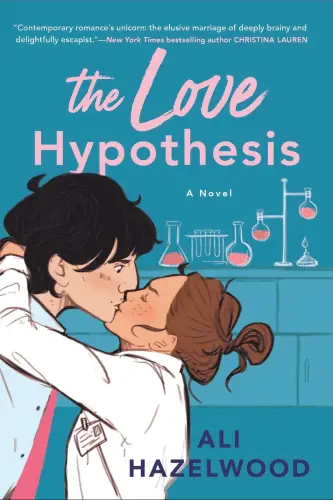 Date Published: September 14, 2021
The Love Hypothesis:
TL;DR Summary
Science never looked so steamy: love sparks in the lab! Welcome to The Love Hypothesis by Ali Hazelwood, where the chemistry is both literal and metaphorical. Set in the intellectually stimulating environment of Stanford University's science department, this delightful rom-com explores the serendipitous love journey of two whip-smart protagonists.

Olive Smith, a third-year Ph.D. candidate, is a fiercely independent and intelligent woman dedicated to her cancer research. However, when she's misconstrued as a heartbroken damsel, she concocts an elaborate ruse to show she's moved on from her ex. She grabs the first guy she sees, and lo and behold, that man is none other than Professor Adam Carlsen, a young, enigmatic, and notorious hard-ass in the Biology department. They fake a relationship, what can possibly go wrong?

As the fauxmance intensifies, Olive and Adam navigate the labyrinth of academia, with its cutthroat competition, grant battles, and the perilous politics of the scientific world. The façade begins to waver, and amidst Bunsen burners and petri dishes, they find themselves unexpectedly caught in the vortex of genuine emotions.

Ali Hazelwood spins the DNA helix of romance with a concoction of humor, wit, and heart. The lab is transformed into a crucible of passion, where the hypotheses of love are tested, and unexpected variables yield mind-blowing results. The Love Hypothesis is an effervescent beaker bubbling with intellectual banter, fierce feminism, and a romance that defies the laws of science.
Spoilers (click here to reveal spoilers)
Oh, what tangled webs we weave! As the entangled atoms of Olive and Adam's fauxmance vibrate with true love, the facade begins to crumble. Despite the odds, Adam risks his stoic reputation and aids Olive in her struggle for academic recognition. The sparks flying between them could power a particle accelerator, and eventually, they can no longer deny their feelings.

In a crescendo of emotion, Olive's groundbreaking research gains well-deserved recognition, and Adam's ironclad walls melt. In the electrifying conclusion, they confess their true feelings to each other and become the catalyst for each other's happiness. Olive and Adam's once-fake romance culminates in a whirlwind of genuine love, as they find solace, support, and passion in each other's arms. The ultimate conclusion? Love can't be confined to test tubes!
The Love Hypothesis:
Genres
Fiction
Romance
Contemporary Romance
Romantic Comedy
Academic Romance
The Love Hypothesis:
Main Characters
Olive Smith: A third-year Ph.D. candidate in cancer research, Olive is intelligent, independent, and values honesty. For example, she openly confronts her lab mate when he tries to take credit for her work.
Adam Carlsen: A young, brooding biology professor, Adam is fiercely protective of his reputation. He values integrity and dedication to science, as seen when he risks his status to help Olive secure a research grant.
The Love Hypothesis:
Themes
Fake to Real Romance: The book explores the transition from a fake relationship to genuine love, as Olive and Adam's initial ruse evolves into true feelings.
Female Empowerment: Through Olive's character, the story reflects the theme of female empowerment, as she navigates the male-dominated academic world and stands up for her work.
Academic Politics: The story delves into the cutthroat nature of academia, highlighting the challenges faced by researchers and the politics involved in securing grants and recognition.
Self-discovery and Growth: Both Olive and Adam go through a journey of self-discovery and personal growth as they learn to break down their emotional barriers and open up to love.