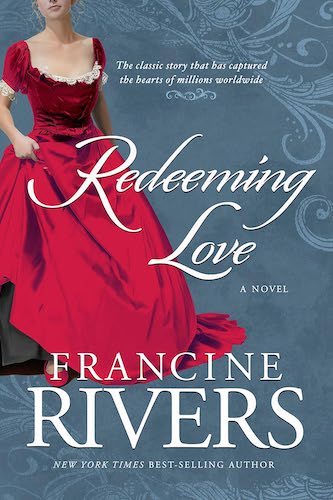 Date Published: 1991
Redeeming Love:
TL;DR Summary
Unearth a love story that challenges the boundaries of devotion and forgiveness. "Redeeming Love" unfurls its heartrending tale in the 1850s California Gold Rush. Angel, a woman broken by her past, is trapped in the bleak world of prostitution. Her deeply scarred soul views love as a cruel illusion. Then, Michael Hosea, a godly man driven by a divine vision, strides into her life. Moved by a love as vast as the cosmos, Michael is inspired to marry Angel, despite her resistance. What follows is a powerful narrative of transformation, where persistent love battles deep-seated pain. Their love story, rich with biblical parallels, reveals the redemptive power of unwavering commitment.
Spoilers (click here to reveal spoilers)
In the poignant finale of "Redeeming Love," Angel, having left Michael multiple times due to her traumatic past, eventually confronts her deepest wounds and recognizes her true worth. Michael's ceaseless love and faithfulness lead her back to him. After returning, she is reborn in faith, accepting Michael's love and God's grace wholeheartedly. The couple experiences trials and tribulations but are bound by an indomitable love that mirrors God's love for his children. The story culminates in the promise of new beginnings as Angel and Michael start a family and extend their compassion to other broken souls, thus perpetuating the cycle of redemption.
Redeeming Love:
Genres
Fiction
Historical Fiction
Christian Fiction
Romance
Inspirational
Redeeming Love:
Main Characters
Angel (originally Sarah): A woman scarred by a traumatic childhood and life in prostitution, she grapples with her self-worth. Despite her facade of indifference, Angel yearns for genuine affection. Her transformation from disbelief to accepting love is palpable when she finally embraces Michael's unwavering love.
Michael Hosea: A godly man with an undying spirit, Michael's deep faith guides his actions. Filled with compassion and love, he marries Angel, guided by a divine vision. His perseverance shines when he continuously seeks Angel after her numerous departures, embodying the biblical Hosea's love for Gomer.
Duke (previously Alex Stafford): Angel's childhood love turned tormentor, he epitomizes betrayal. His treachery, leading Angel into a life of prostitution, stands in stark contrast to Michael's unwavering devotion.
Redeeming Love:
Themes
Redemption: Angel's journey from a hardened prostitute to a loving wife exemplifies transformation. Michael's commitment and God's grace catalyze her path to redemption, reminiscent of the biblical story of Hosea.
Unconditional Love: Michael's love for Angel, despite her past and resistances, mirrors God's boundless love for His people. This love transcends societal norms, inviting readers to explore its vast dimensions.
Forgiveness: Confronting her past, Angel learns the power of forgiveness, not just of others but of herself. Michael, too, offers forgiveness repeatedly, highlighting its role in healing and growth.
Faith: The narrative is woven with threads of faith. Michael's unwavering belief in Angel's potential and God's plan for them is a beacon of hope and resilience throughout the story.