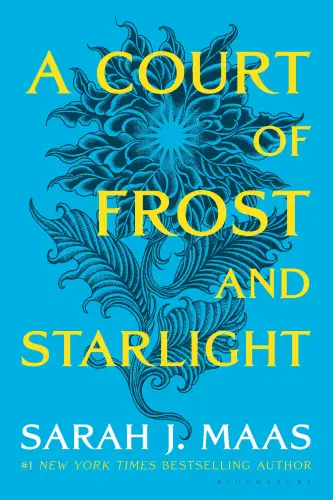 Date Published: May 1, 2018
A Court of Frost and Starlight:
TL;DR Summary
Embrace the frigid whispers of destiny as hearts clash with the cruelty of winter. A Court of Frost and Starlight by Sarah J. Maas is a spellbinding bridge between the events of A Court of Wings and Ruin and upcoming sequels, an indelible tapestry of longing and love painted on the backdrop of the Winter Solstice. The tale unfurls in the sumptuously alluring Night Court of Prythian, where immortal Feyre Archeron and her enthralling mate, Rhysand, wrestle with the aftermath of a land freshly liberated yet deeply scarred by war. It's in the halls bathed in moonlight and starlight that Feyre's resilience is tested as High Lady.

The Night Court, known for its delectable pleasures and fearsome secrets, is riddled with the echoes of a past that refuses to be buried. The Winter Solstice, a time of coming together, of gifts and feasting, is upon the fey, promising ephemeral respite from the icy air of politics and responsibilities. However, the frosty tendrils of old hatreds and alliances are resilient.

While Feyre's paintbrush dances over canvases, the touch of love and hope, she must face her own fears and embrace her path. The characters' relationships deepen; new alliances are forged, and the strength of the family, both blood and chosen, is tested. The relentless, breathless prose pulses through this novella, leaving readers gasping for more as the stage is set for fresh stories to burgeon under the night sky of Prythian.
Spoilers (click here to reveal spoilers)
As A Court of Frost and Starlight reaches its heart-rending crescendo, the Winter Solstice has come and gone, leaving indelible marks on our beloved characters. Feyre and Rhysand's love, ethereal as night itself, is tested but emerges unshaken. Feyre's gift to Rhysand - a stunning painting that reflects their bond - captures the essence of their unyielding love. Nesta, Feyre's sister, remains ensnared in her pain, but a promise of a fresh start beckons as she begins training with Cassian.

The novel closes with the Night Court more united than ever, with promises and secrets woven into the very fabric of stars. The final letter from Rhysand evokes both sorrow and hope, kindling an insatiable yearning for what is to come.
A Court of Frost and Starlight:
Genres
Fiction
Fantasy
High Fantasy
Romance
New Adult
A Court of Frost and Starlight:
Main Characters
Feyre Archeron: A resilient and talented High Fae, Feyre values love, justice, and family. Her creativity blooms through painting, as seen when she gifts Rhysand a painting capturing their bond.
Rhysand: The High Lord of the Night Court, Rhysand is enigmatic, fiercely loyal, and protective. He values freedom and sacrifice, evidenced by his constant struggle to protect his people.
Nesta Archeron: Feyre's elder sister, Nesta is sharp, guarded, and haunted by past traumas. She values strength, as seen through her grudging decision to train with Cassian.
Cassian: A fierce Illyrian warrior, Cassian is charismatic and loyal. He values honor and camaraderie, as shown in his unwavering support of Nesta's journey.
A Court of Frost and Starlight:
Themes
Healing and Recovery: Characters grapple with the aftermath of war, as shown through Nesta's struggle with her past and Feyre's use of art as therapy.
Love and Relationships: Feyre and Rhysand's unwavering love is central to the story, their bond portrayed through their mutual support and Feyre's meaningful gift.
The Value of Family: The significance of family, both by blood and choice, is highlighted during the Winter Solstice celebrations, where gifts are exchanged, and bonds are strengthened.
Personal Growth: Characters evolve, confronting their fears and embracing new paths. This is evident through Nesta's decision to embark on training with Cassian.
Sacrifice: The theme of sacrifice resonates, as characters, particularly Rhysand, continue to give of themselves for the protection and welfare of those they love.
A Court of Frost and Starlight