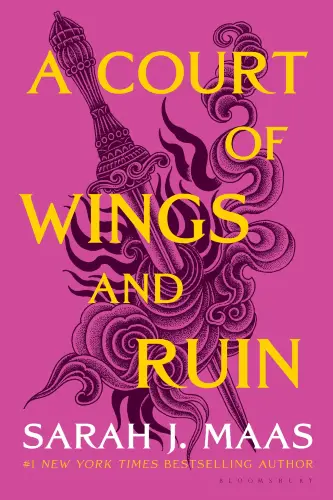 Date Published: May 2, 2017
A Court of Wings and Ruin:
TL;DR Summary
Hold onto your heartstrings as they're about to be wrenched and set aflame! Sarah J. Maas's "A Court of Wings and Ruin" takes you on a seductive whirlwind through the entrancing lands of Prythian. Feyre Archeron, our fiery High Lady, returns to the festering Spring Court in disguise with vengeance in her eyes. She's a cunning tempest, determined to gather intel on Tamlin's alliance with the despicable King of Hybern, who threatens to shatter the ancient wall separating the human and fae realms.

As the story unfurls like a shadowy tapestry of dreams and nightmares, Feyre's family, wrought with newfound powers, join her in a journey that weaves through an entanglement of courts, wondrous lands, and age-old mysteries. Dark shadows gather, as courts, once sworn enemies, must contemplate the unthinkable: alliance.

Our favorite High Lord, Rhysand, commands the shadows and stars with his Night Court, where a tempestuous bond with Feyre storms through hearts like thunder. An ensemble of characters, vivid as painted dreams, assemble around them. Mor, Azriel, Cassian, Amren - warriors and dreamers, caught in an age-old tapestry that writhes with the echoes of ancient wars and long-forgotten secrets.

The novel crescendos with a staggering symphony of love, sacrifice, and valor, as the forces of Prythian clash against the sinister King of Hybern and his legions. As battle lines are drawn and painted with the essence of starlight and shadows, the characters you have grown to love are tested beyond the realms of their hearts and dreams.
Spoilers (click here to reveal spoilers)
In a cascade of cataclysmic collisions, the final battle against the King of Hybern is a storm that threatens to consume all. Feyre and Rhysand's love is a tempest that shields and devastates, as the lines between sacrifice and salvation blur. In a heart-wrenching climax, a deadly bargain is struck to save the Cauldron's power. Amren is reborn, unleashing devastation upon the enemy, as Prythian's courts unite, not as allies, but as a family.

Amidst the stars and ruins, Feyre and Rhysand's bond becomes the beacon that guides Prythian out of the shadows, as an age-old curse is lifted, and new beginnings are woven from the tapestry of dreams and nightmares.
A Court of Wings and Ruin:
Genres
Fiction
Fantasy
High Fantasy
Romance
New Adult
Adventure
A Court of Wings and Ruin:
Main Characters
Feyre Archeron: A mortal turned High Fae, and the High Lady of the Night Court. Feyre is fierce, determined, and values love and freedom. She sacrifices herself to save others during the final battle.
Rhysand: The enigmatic and powerful High Lord of the Night Court. He values loyalty and freedom and shares a soul-deep bond with Feyre. His support of Feyre in embracing her powers is a testament to his values.
Nesta Archeron: Feyre's sister, with a hard exterior. She values strength and independence, and her wielding of the Cauldron exemplifies this.
Elain Archeron: Feyre's other sister, gentle and caring. She values family and, despite her soft demeanor, shows her strength when she kills King Hybern.
Tamlin: The High Lord of the Spring Court, he deals with his internal conflicts and his love for Feyre.
Amren: A fearsome, ancient creature trapped in a High Fae body, and part of Rhysand's Inner Circle. She values knowledge and sacrifices herself to save Prythian.
A Court of Wings and Ruin:
Themes
Love and Sacrifice: The characters' love for each other drives them to great sacrifices. Feyre and Rhysand's willingness to die for each other exemplifies this.
War and Alliances: The imminent war forces alliances among the Courts of Prythian, highlighting the importance of unity in the face of a common enemy.
Freedom and Independence: Characters fight for their freedom and autonomy. Feyre breaking free from Tamlin's control and establishing herself as High Lady showcases this.
Family and Loyalty: Family ties, both blood and chosen, play a crucial role. Nesta and Elain fighting alongside Feyre, and the loyalty of Rhysand's Inner Circle, illuminate this.
Power and Transformation: The characters undergo transformations and embrace their powers. Amren's transformation in the final battle exemplifies this.
A Court of Wings and Ruin