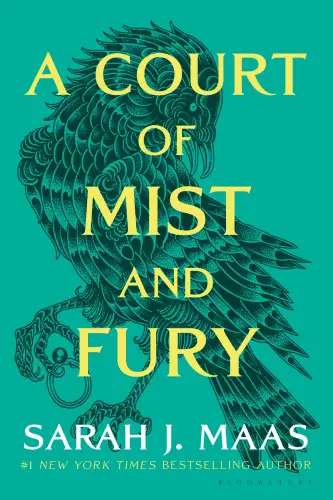 Date Published: April 22, 2016
A Court of Mist and Fury:
TL;DR Summary
Enter a Realm Where Passion and Power Collide Like Never Before. Sarah J. Maas' enchanting novel, "A Court of Mist and Fury", transports readers to the mystical lands of Prythian. Feyre Archeron, our fierce heroine, emerges from the shadows of the terrifying Under the Mountain only to be ensnared by an ancient, haunting bargain. Torn between loyalty to the Spring Court and the caress of a world she barely understands, she is forced to traverse the sultry Night Court.

The Night Court, veiled in shadows and ruled by the enigmatic High Lord Rhysand, is not what it seems. As Feyre's powers blossom in this mysterious realm, so does her heart. The Night Court's beauty is only rivaled by its dark secrets, and as Feyre's bonds with Rhysand intensify, she begins to unravel the intricate tapestry of his world.

Meanwhile, the specter of Amarantha's curse still looms. Prythian is not yet free from the clutches of treachery, and a greater evil threatens to shatter the fragile peace. Feyre must learn to harness her newfound abilities as she contends with festering political intrigues and the shadows of her own past.

A symphony of characters enter the fray - fae warriors, ancient beings, and a band of rebels. Each one woven with desires, and hearts as complex as the lands they dwell in. Through death-defying quests and scorching romance, Feyre must find a way to protect her world from descending into chaos.

An intoxicating brew of romance, power, and peril, "A Court of Mist and Fury" is an ode to the unyielding spirit and the seductive allure of forbidden love.
Spoilers (click here to reveal spoilers)
An Explosive Crescendo Awaits. As the threads of fate tighten around Prythian, Feyre's destiny unfurls like a tempestuous storm. The shadows from the past don't compare to the looming war, as a vile king from the neighboring land of Hybern seeks to regain control over the fae lands through unthinkable means. The Night Court and Feyre, now High Lady, are plunged into the crucible of war.

Feyre's cunning and resolve are tested as she turns betrayal into an art form to protect those she holds dear. Rhysand and Feyre's bond reaches its zenith as they are willing to sacrifice everything for each other and their realm. With their combined powers and allies, including forces from other Courts, they clash with Hybern.

In an agonizing climax, sacrifices are made, and Rhysand pays the ultimate price. But, as love refuses to bow, life blooms anew through the very bonds that define them. Rhysand is resurrected, and Feyre embraces her role as a queen and protector.

The final pages paint a Prythian, bruised but not broken, poised on the cusp of a new era, with Feyre and Rhysand vowing to rebuild and create a future filled with hope.
A Court of Mist and Fury:
Genres
Fantasy
High Fantasy
Romantic Fantasy
New Adult Fantasy
A Court of Mist and Fury:
Main Characters
Feyre Archeron: A mortal-turned-fae heroine, fierce and determined, Feyre values loyalty and love. She develops into a powerful figure, fighting for the protection of her loved ones and Prythian (e.g. outsmarting the king of Hybern).
Rhysand: High Lord of the Night Court, Rhysand is enigmatic and cunning. Beneath a mask of indifference, he values freedom and equality. His fight to protect his Court from Amarantha's clutches reflects his dedication to his values.
Tamlin: High Lord of the Spring Court, his love for Feyre turns possessive. His protective nature becomes his downfall as he makes questionable decisions for what he believes is Feyre's safety.
Morrigan (Mor): Rhysand's cousin, vivacious and powerful, Mor values loyalty and friendship. She provides invaluable support to Feyre during her time in the Night Court.
A Court of Mist and Fury:
Themes
Love and Sacrifice: The book explores the depths of love, and the sacrifices one is willing to make for it. For example, Rhysand's willingness to sacrifice his life for Feyre.
Empowerment and Identity: Feyre's growth from a broken human to a formidable High Lady signifies the theme of empowerment and finding one's true identity.
Freedom vs. Control: The contrast between Rhysand's respect for Feyre's autonomy and Tamlin's controlling nature reflects the theme of freedom versus control.
The Cost of Power: The novel portrays the consequences and responsibilities that come with power, as seen in the challenges faced by Feyre and Rhysand in protecting Prythian.
Resilience and Hope: Despite the dire circumstances, the characters in the novel demonstrate resilience and hold onto hope, as seen in their determination to build a better future after the war.