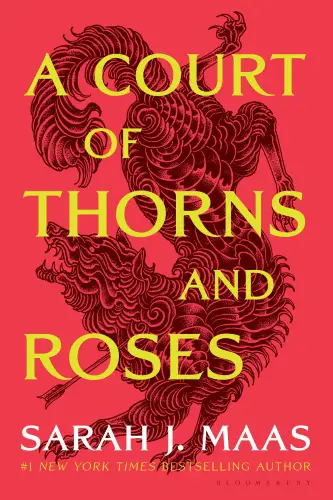 Date Published: May 5, 2015
A Court of Thorns and Roses:
TL;DR Summary
Enter a realm of merciless faeries and enthralling romance where the night holds secrets that could unravel your heart. In "A Court of Thorns and Roses", Sarah J. Maas transports you to the mystical land of Prythian, where deadly creatures roam and magic thrives. The tale follows Feyre Archeron, a mortal huntress struggling to provide for her destitute family. Her world is overturned when she slays a wolf, only to discover it was a faerie in disguise.

As retribution, she's whisked away across the ancient wall separating humans from the Faerie realms. In the magnificent, yet sinister Spring Court, ruled by the enigmatic High Lord Tamlin, Feyre is engulfed in an intoxicating world of beauty, glamour, and dangerous alliances. But beneath the allure lies a creeping shadow. The malevolent force of Amarantha, a wicked faerie queen, threatens the very fabric of Prythian. As Feyre's emotions for Tamlin bloom into a tumultuous love, she realizes her newfound home has secrets as deep as the forests she once hunted in. With an ancient curse looming and the perilous trials she must face, Feyre must unearth the strength within her to save not just her heart, but a world on the brink of shattering.
Spoilers (click here to reveal spoilers)
In an exhilarating climax that entwines love and sacrifice, Feyre confronts the ominous queen Amarantha in the haunted depths of the faerie realm. With her heart on her sleeve and her very soul at stake, Feyre tackles deadly trials that test the depths of her cunning, fortitude, and compassion. Through riddles and sacrifice, she peels back the layers of the ancient curse gripping Prythian. In a fervent battle of wits, magic, and the unrelenting power of love, Feyre is reborn. She breaks the curse and liberates the enslaved faeries and Tamlin, the High Lord she so vehemently loves. However, her triumph is laced with uncertainty as new allegiances are formed and her mortal life is forever transformed.
A Court of Thorns and Roses:
Genres
Fiction
Fantasy
Romance
New Adult
Fairy Tale Retelling
A Court of Thorns and Roses:
Main Characters
Feyre Archeron: A fierce mortal huntress with a steely resolve to protect her family, Feyre evolves into a courageous heroine willing to sacrifice herself for love and justice.
Tamlin: The High Lord of the Spring Court, Tamlin is a powerful and enigmatic faerie with a tormented past. His fierce protectiveness of his lands exemplifies his sense of duty.
Rhysand: The intriguing and dark High Lord of the Night Court, Rhysand possesses a mischievous charisma and an intricate web of secrets. His value for freedom is highlighted when he aids Feyre to escape Under the Mountain.
Amarantha: The malevolent faerie queen, Amarantha is a force of evil and vengeance, with a sadistic pleasure in pain and control.
A Court of Thorns and Roses:
Themes
Sacrifice and Love: Feyre's willingness to endure pain and trials to save Tamlin and Prythian exemplifies the lengths one will go for love.
Transformation: Characters, especially Feyre, undergo significant transformations, both physically and emotionally, as they face challenges and evolve.
The Duality of Beauty and Danger: The enchanting beauty of the Faerie lands masks the underlying dangers, reflecting the theme that not everything is as it seems.
Courage and Heroism: The characters' bravery in the face of insurmountable odds highlights the importance of courage in overcoming adversity. For instance, Feyre faces Amarantha's deadly trials head-on.
Freedom and Choice: The theme of freedom runs deep, as characters like Rhysand seek liberation from oppressive forces, and Feyre fights for the autonomy of herself and her loved ones.
A Court of Thorns and Roses