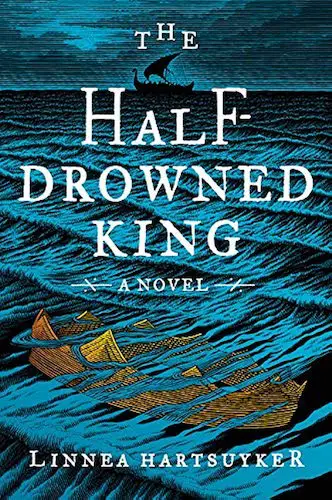 Date Published: August 1, 2017
The Half-Drowned King:
TL;DR Summary
You've never experienced a Viking saga like this before. "The Half-Drowned King" by Linnea Hartsuyker transports readers to the stormy, sword-clashing world of ninth-century Norway.

The turbulent waves of Scandinavian history lap against a landscape of rocky fjords and ancient rune stones, where power is won and lost by the strength of a warrior's arm and the sharpness of a skald's tongue.

In this harsh but vibrant world, we meet Ragnvald Eysteinsson, a young warrior who barely survives a treacherous betrayal at sea, orchestrated by his cruel stepfather, Olaf. Ragnvald's dreams of reclaiming his father's honor and rightful lands take shape in the ethereal form of Odin's golden warrior, prophesying a heroic destiny for Ragnvald.

Simultaneously, we're introduced to his spirited sister, Svanhild, who longs for freedom beyond the restrictions of the Viking society and its expectations of her as a woman. The dual storylines intertwine in a bloody saga of courage, vengeance, love, and ambition.

Will the siblings succeed in their quests while navigating the labyrinth of blood feuds, the intricacies of Viking politics, and the capriciousness of the gods? The seafaring exploits and terrestrial trials of "The Half-Drowned King" capture the raw grit and grandeur of the Viking Age like no other.
Spoilers (click here to reveal spoilers)
In a thrilling climax, Ragnvald finally realizes his prophesied destiny to be the king by the unification of Norway, not through raw force but political acumen and alliances. It's a testament to his development from a warrior seeking revenge to a wise ruler who understands the value of peace and unity.

Svanhild, on the other hand, chooses a life of freedom over societal norms, marrying a charismatic but infamous sea-king, Solvi. Through trials and tragedies, she transforms into a powerful woman of the sea, proving that she's more than capable of crafting her destiny in the patriarchal society of the Vikings.
The Half-Drowned King:
Genres
Fiction
Historical Fiction
Adventure
Saga
Epic
The Half-Drowned King:
Main Characters
Ragnvald Eysteinsson: An honorable warrior determined to reclaim his father's honor and lands. His patience and bravery are evident when he withstands treachery and manipulative politics to unite Norway.
Svanhild Eysteinsdatter: Ragnvald's rebellious sister, who defies societal norms to carve her path. Her courage shines through when she chooses a life of danger and independence by marrying Solvi, instead of a life of comfort and security.
The Half-Drowned King:
Themes
Betrayal and Revenge: Ragnvald's stepfather's treachery sets in motion the events of the saga. Ragnvald's quest for justice illustrates this theme.
Fate and Prophecy: The golden warrior's prophecy to Ragnvald underscores the Vikings' belief in predestined fate and the capriciousness of the gods.
Empowerment and Independence: Svanhild's journey symbolizes a woman's struggle for empowerment and autonomy in a male-dominated society.
Societal Roles and Expectations: The characters grapple with the societal expectations of the Viking society— Ragnvald as an honorable warrior and king, and Svanhild as a submissive woman.
War and Peace: The narrative explores the constant tension between war and peace. Ragnvald's transformation from warrior to a wise king reflects this dichotomy.