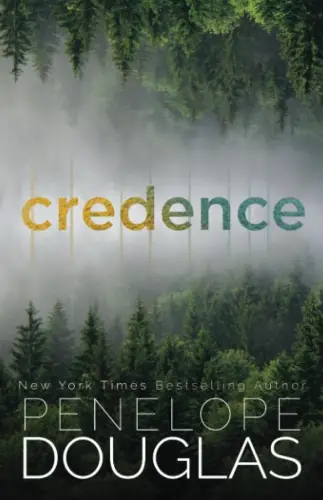 Date Published: January 13, 2020
Credence:
TL;DR Summary
Unlock the secrets of the snow-capped mountains! In "Credence" by Penelope Douglas, the story unfolds in the isolated mountains of Colorado. After the tragic death of her parents, Tiernan de Haas is left with no choice but to move in with her estranged step-uncle and his two adult sons. The secluded cabin becomes a place of healing, discovery, and unexpected relationships.

As the snow traps them inside, boundaries blur, and Tiernan finds herself drawn to all three men in different ways. The tale is a whirlwind of emotions, passion, and forbidden attractions. But as the snow melts, so do the secrets, revealing truths that could shatter their newfound bonds.
Spoilers (click here to reveal spoilers)
As the winter season comes to an end, the intricate web of relationships reaches its climax. Tiernan's journey of self-discovery leads her to confront her past, her feelings, and her future. Amidst the chaos of passion and forbidden attractions, she realizes where her heart truly lies.

The bonds formed during the snowbound months are tested, and not all relationships survive. In the end, Tiernan must make a choice, one that will define her path and the lives of those she's come to care for deeply.
Credence:
Genres
Fiction
New Adult
Romance
Dark Romance
Contemporary
Contemporary Romance
Forbidden Romance
Family Drama
Coming of Age
Credence:
Main Characters
Tiernan de Haas: A young woman seeking solace and healing after a personal tragedy. Values self-discovery and personal growth. Throughout the story, she learns to confront her past and embrace her desires.
Jake: Tiernan's step-uncle, a strong and silent type. Values loyalty and family. He becomes a pillar of support for Tiernan, guiding her through her grief.
Noah: One of Jake's sons, passionate and intense. Values honesty and raw emotion. His relationship with Tiernan is fiery, filled with ups and downs.
Kaleb: Jake's other son, mysterious and reserved. Values trust and understanding. He shares a deep, unspoken connection with Tiernan, helping her navigate her feelings.
Credence:
Themes
Self-Discovery: Tiernan's journey from grief to understanding her desires and feelings. As she spends time in the cabin, she learns more about herself and what she truly wants.
Forbidden Attraction: The complex relationships between Tiernan and the three men highlight the blurred lines between right and wrong, and the challenges of forbidden love.
Family and Loyalty: Despite not being related by blood, the bonds formed in the cabin are deep and meaningful. The story showcases the importance of family, whether by blood or by choice.
Confronting the Past: Throughout the novel, characters are forced to face their pasts, whether it's Tiernan dealing with her parents' death or the men confronting their own histories.