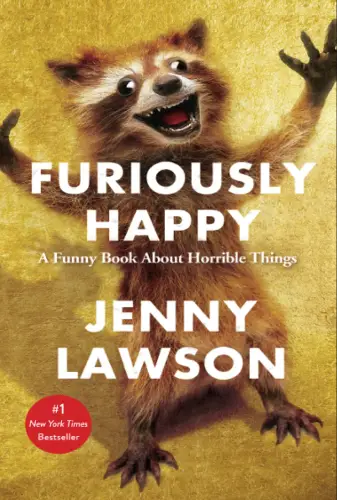 Date Published: September 22, 2015
Furiously Happy:
TL;DR Summary
Ever thought taxidermied raccoons could teach you about life? Dive into Jenny Lawson's world! In "Furiously Happy," Lawson takes us on a rollercoaster ride through her life, one filled with the highs and lows of mental illness. But instead of dwelling on the darkness, she chooses to celebrate the absurd, hilarious moments that come with it.

From midnight cat rodeos to bizarre arguments with her husband, Lawson's stories are a testament to the power of embracing one's quirks. While mental illness is no laughing matter, Jenny believes that finding humor in the darkest corners can be a lifeline. Through her candid tales, she offers readers a unique perspective: it's okay to be broken, as long as you're furiously happy.
Furiously Happy:
Genres
Memoir
Mental Health
Humor
Autobiography
Inspirational Non-Fiction
Personal Growth
Self Help
Non Fiction
Furiously Happy:
Main Characters
Jenny Lawson: A fiercely candid and quirky writer who battles various mental disorders. She's a lover of strange taxidermy and has an uncanny ability to find humor in the most unexpected places. Her value for authenticity shines when she openly shares her struggles, like when she hides in her bathroom during an anxiety attack but later laughs about it.
Furiously Happy:
Themes
Embracing Imperfections: Throughout the book, Jenny emphasizes the beauty in being flawed. Whether it's her misadventures with taxidermied animals or her candid discussions about her mental health, she showcases the importance of accepting and even celebrating our imperfections.
The Power of Humor: Jenny's life is filled with challenges, but she consistently uses humor as a coping mechanism. Her hilarious anecdotes, like trying to convince her husband to buy live kangaroos, underscore the therapeutic value of laughter.
Mental Health Awareness: One of the book's core messages is the importance of understanding and discussing mental health. Jenny's open dialogue about her struggles, such as her battles with depression and anxiety, sheds light on the realities many face but are often afraid to discuss.
The Importance of Community: Throughout her journey, Jenny highlights the significance of having a supportive community. Whether it's her readers, family, or friends, these connections play a crucial role in her ability to navigate her challenges. Her interactions with her blog readers, for instance, showcase the mutual support and understanding they share.