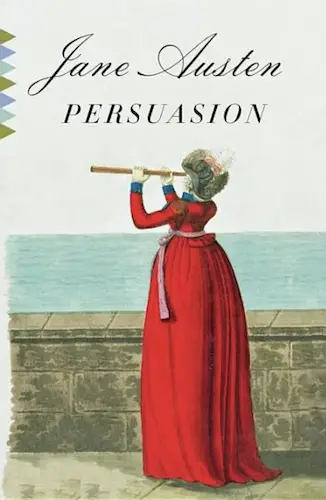 Date Published: December 20, 1817
Persuasion:
TL;DR Summary
Prepare yourself for an enchanting tale of second chances, "Persuasion" by Jane Austen, set in the elegant halls of country houses and the windswept shores of Lyme Regis. When our heroine, Anne Elliot, breaks off an engagement with the dashing yet impoverished Frederick Wentworth due to the well-intended persuasion of her trusted friend, she unknowingly sets off a series of events that would stir their lives years later. Upon the backdrop of England's regency period, the story unfolds with poignant undertones of social standing, power, and familial duties.

Our heroine finds herself haunted by the echoes of her past decision when the now rich and successful Captain Wentworth reenters her life, sparking the old flame that she had long tried to extinguish. All the while, the Elliot family's lavish lifestyle leads them to financial disarray, compelling a move from their ancestral home, Kellynch Hall, to Bath. Here, Anne is thrust into a whirlwind of societal intrigue filled with fortune hunters, frivolous relatives, and old suitors.

Jane Austen meticulously weaves a fabric of subtle persuasion and silent resilience in a society driven by rank and wealth. This intricate tapestry of human emotion is heightened by a love that refuses to die, character growth and introspection, and the underlying tension of unspoken truths. Will Anne succumb to the forces of persuasion once more, or will her enduring love for Wentworth guide her to her heart's true desire? The unfolding drama of "Persuasion" waits to enrapture you.
Spoilers (click here to reveal spoilers)
As the complexities of Bath society play out, Anne finds herself entwined with her cousin William Elliot, whose manipulative charm casts a shadow of uncertainty over Anne's feelings for Wentworth. However, amidst the turmoil, a near-tragic event leads to a profound change in Wentworth's attitude, revealing his undying affection for Anne. Our heroine is torn between her heart and societal expectations.

The climax of the story arrives through an overheard conversation, where Wentworth's fervent love letter serves as a passionate plea for their rekindled affection. In a true Austen fashion, the social norms and the persuasion of others are cast aside, as Anne bravely chooses her path, deciding to follow her heart. Thus, Anne and Wentworth find their way back to each other, concluding the novel with a heartwarming union that triumphs over societal constraints and past regrets.
Persuasion:
Genres
Fiction
Romance
Satire
Drama
Historical Fiction
Regency Literature
Persuasion:
Main Characters
Anne Elliot: Austen's mature and intelligent heroine who values love over social standing. Example: Her choice to reject William Elliot's advances due to her enduring love for Wentworth.
Captain Frederick Wentworth: A dashing naval officer, representing self-made success. He prizes resilience and loyalty, shown when he writes Anne a heartfelt love letter despite their complicated past.
Sir Walter Elliot: Anne's vain and materialistic father, who holds beauty and social status above all else, showcased when he leases Kellynch Hall to improve his financial situation.
Lady Russell: A practical and influential widow, who values societal propriety, seen when she persuades Anne to break off her engagement with Wentworth due to his lack of fortune.
Persuasion:
Themes
Persuasion and Regret: Explored through Anne's decision to break her engagement with Wentworth and her subsequent regret. Example: Her melancholic reflections on her lost love.
Social Class and Status: Illustrated through characters like Sir Walter, who values aristocratic status above all. Example: His disdain for those of lower rank, like Admiral Croft.
Second Chances: Embodied in Anne and Wentworth's rekindled romance. Example: Their reunion and marriage at the end of the book.
Inner Virtue vs. Outer Appearance: Demonstrated through Anne's intelligence and goodness, contrasted with the vanity and shallow beauty of her family. Example: Her father's obsession with his personal appearance and family prestige.