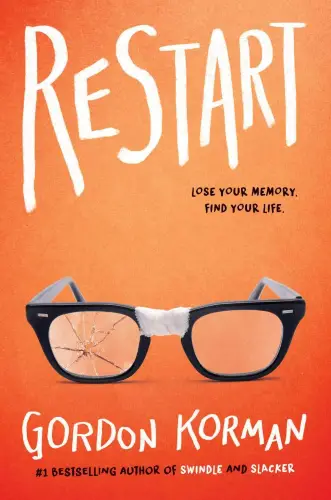 Date Published: May 30, 2017
Restart:
TL;DR Summary
Ever imagined waking up with no memory of who you were? Dive into the whirlwind life of Chase Ambrose in Restart by Gordon Korman. Set in the bustling environment of Hiawassee Middle School, Chase Ambrose wakes up from a coma with no recollection of his past. He's a blank slate, unaware of his reputation as a notorious bully. As he navigates the school corridors, he's met with mixed reactions - some kids are terrified, some are indifferent, and some are surprisingly kind.

Chase is puzzled by the stark contrast in how people treat him. He joins the video club and befriends some of the very kids he used to torment. As fragments of memories return, Chase grapples with his past actions and the person he used to be. The story unravels as he decides whether to return to his old ways or seize the opportunity to become someone better.
Spoilers (click here to reveal spoilers)
As the school year progresses, Chase's past actions come to light, especially his involvement in a major incident that led to his amnesia. The school community is divided, with some wanting him expelled. However, Chase's genuine efforts to change and the support of his new friends make a difference.

In a climactic turn of events during a community service project, Chase risks his life to save his former bullying victim, showcasing his transformation. The story concludes with Chase reconciling with his past, making amends, and looking forward to a brighter future.
Restart:
Genres
Fiction
Young Adult Fiction
Coming of Age
Drama
School Story
Contemporary Fiction
Restart:
Main Characters
Chase Ambrose: The protagonist who suffers from amnesia. Once a feared bully, he's now given a chance to redefine himself. His kindness shines when he helps Joel with his video project.
Shoshanna Weber: A passionate member of the video club and one of Chase's victims. She's resilient and stands up for what's right, like when she confronts Chase about his past.
Brendan Espinoza: A former target of Chase's bullying, he's cautious but eventually sees Chase's genuine transformation. His forgiveness is evident when he collaborates with Chase on a video project.
Joel Weber: Shoshanna's twin and a geeky video enthusiast. He's wary of Chase but warms up to him, especially after Chase's support in the video club.
Restart:
Themes
Redemption and Second Chances: Chase's journey from a bully to a changed individual showcases the power of redemption. His efforts to make amends, like apologizing to Brendan, highlight this theme.
Identity and Self-Discovery: Chase's amnesia forces him to rediscover himself and choose between his old and new identities. His involvement in the video club represents his new self.
Friendship and Trust: The evolving relationships between Chase, Shoshanna, Brendan, and Joel emphasize the importance of trust in friendships. Their collaboration on the video project solidifies their bond.
Consequences of Actions: The story underscores that actions, good or bad, have consequences. Chase's past actions haunt him, but his changed behavior earns him respect and forgiveness.