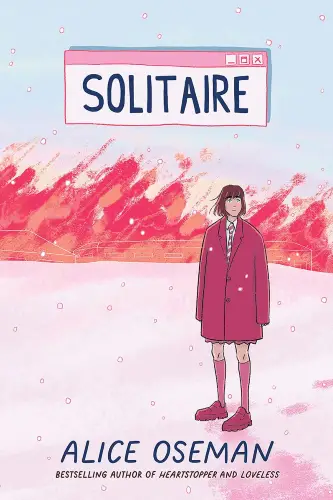 Date Published: July 31, 2014
Solitaire:
TL;DR Summary
Discover the Secret World Inside an Ordinary High School! "Solitaire" unravels its story within the monotonous hallways and buzzing classrooms of Higgs High School. Tori Spring, the protagonist, is a teenager who likes to blog and is fairly cynical about life. Everything changes when a series of pranks and disruptive events start occurring at her school, all attributed to an enigmatic entity called Solitaire. As these incidents grow increasingly serious, Tori finds herself getting involved, against her better judgment.

She's drawn into a web of mysteries, drama, friendships, and self-discovery. Alongside Michael Holden, a bright and quirky character, she's pushed into solving the mystery of Solitaire, all while navigating the complexities of teenage life. Themes of mental health, love, identity, and personal growth intertwine, creating a compelling narrative that captures both the light and dark sides of adolescence. The wit and realism with which Alice Oseman portrays the high school experience make "Solitaire" an unputdownable read.
Spoilers (click here to reveal spoilers)
In a startling twist, Tori finds that Solitaire was never some distant entity but rather a reflection of the frustrations and struggles within her own school. Her brother Charlie's boyfriend, Nick, is revealed to be one of the key figures behind Solitaire, acting out of desperation to bring attention to their pain. The story ends with a mix of resolution and open-endedness, showcasing the path towards healing, understanding, and a recognition of inner strength. Tori grows closer to her family and friends, and the curtain falls with a sense of hope, acceptance, and the realization that everyone is fighting their own battles.
Solitaire:
Genres
Fiction
Young Adult Fiction
Contemporary
Mystery
Coming-of-Age
Solitaire:
Main Characters
Tori Spring: A cynical teenager who's observant but detached; values honesty, shown through her raw blogging.
Michael Holden: Eccentric, yet caring friend; values individuality, seen in his unapologetic quirkiness.
Charlie Spring: Tori's brother; sensitive and vulnerable; values loyalty, reflected in his relationship with Nick.
Nick: Charlie's boyfriend; desperate and misunderstood; values attention to pain, as evidenced by his involvement in Solitaire.
Solitaire:
Themes
Identity and Self-Discovery: Tori's journey to understand herself, reflected in her evolving relationship with friends and family.
Mental Health: Addressed through characters' various struggles, such as Charlie's eating disorder.
Friendship and Connection: The growing bond between Tori and Michael, symbolizing the importance of genuine connections.
Adolescence and Growing Up: Portrayed through the challenges faced by the characters as they navigate school, relationships, and personal growth.