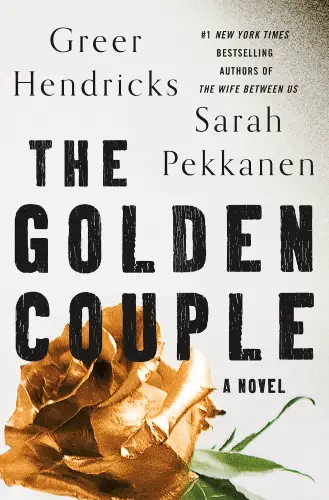 Date Published: March 3, 2022
The Golden Couple: A Novel:
TL;DR Summary
Shatter your preconceptions of 'perfect' in The Golden Couple, a gripping domestic thriller that takes us to the heart of Washington, D.C. It's here that Avery Chambers, a maverick therapist who's gone rogue after losing her license due to unorthodox methods, operates her practice.

Using a unique blend of detective work, data-mining, surveillance, and prescriptive advice, Avery's unconventional therapy promises to 'fix you' in just 10 sessions. The golden couple in question are Marissa and Matthew Bishop, seemingly perfect in their high-powered, Instagram-worthy lives, until Marissa's confession of an affair threatens to tear their world apart.

Suddenly, this curated image of marital bliss is on the rocks, and it's up to Avery to salvage what she can, all within her trademark ten sessions. As Avery delves deeper into the Bishops' world, she uncovers a maze of hidden agendas, deceptions, and class dynamics that reveal more than meets the eye. The truth, however, could detonate any chance of reconciliation. But in a world where appearances are everything, how far will they go to maintain the façade?
Spoilers (click here to reveal spoilers)
In a dramatic and unexpected turn, Matthew Bishop, the 'wronged' husband, is unmasked as the sinister antagonist. This revelation dawns only when Marissa finally reveals the identity of her lover, which incites little reaction from Matthew. His muted response, in contrast to his earlier emotional outbursts, is suspicious and unveils the truth – Matthew himself was the man Marissa cheated with. This climax illustrates Matthew's ability to manipulate those around him, including the astute Avery. The narrative concludes with a distancing of the couple's son from his now-exposed father, a vital move considering Matthew's psychotic tendencies.
The Golden Couple: A Novel:
Genres
Thriller
Family Life
Friendship
Domestic Thriller
Suspense
Fiction
The Golden Couple: A Novel:
Main Characters
Avery Chambers: A rogue therapist who has lost her license due to her unorthodox methods. Valued for her unique approach, Avery is not infallible and is often led astray by her clients' manipulations.
Marissa Bishop: Wife to Matthew Bishop and the one who confesses to infidelity, setting the plot into motion. Values her family and is willing to seek therapy to repair her marriage.
Matthew Bishop: A high-powered Washington lawyer, he is initially portrayed as a wronged husband but is later revealed as the sinister antagonist. He values appearances and is adept at manipulation​.
The Golden Couple: A Novel:
Themes
Deception: Throughout the book, characters often have hidden agendas and manipulate others to achieve their goals. For example, Matthew manipulates Avery and Marissa to maintain his image​.
Class Dynamics: The Bishops' opulent lifestyle and their desire to maintain their image of perfection is a recurring theme in the book. This is highlighted through their luxurious residence and Marissa's boutique​.
Redemption: Marissa's attempt to repair her marriage after her affair reflects the theme of redemption. She takes a chance on Avery's unconventional therapy in the hope of reconciliation.
Power and Control: Matthew's control over the narrative and his ability to manipulate those around him, including his wife and Avery, reflects this theme.
The Golden Couple: A Novel