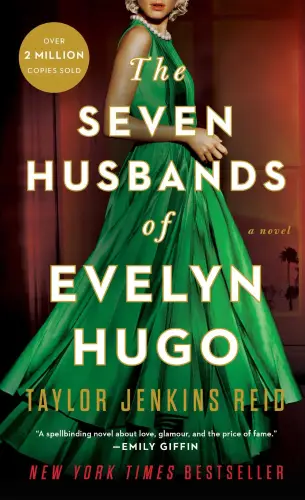 Date Published: June 13, 2017
The Seven Husbands of Evelyn Hugo:
TL;DR Summary
Unlock the Secrets of Old Hollywood's Most Dazzling Star! In the heart of Los Angeles, The Seven Husbands of Evelyn Hugo by Taylor Jenkins Reid spins the intoxicating tale of an enigmatic movie icon, Evelyn Hugo. With Hollywood as the canvas painted with glitz and shadows, Evelyn's roller coaster life takes us through the golden age of cinema to the early 21st century. Imagine a woman who drips glamour and mystery like the most precious of emeralds; Evelyn is that rare gem. As her beauty catapults her into stardom, she captivates the world with her extraordinary talent and her controversial, often scandalous, love life. Evelyn's tapestry is interwoven with seven marriages - each one a chapter, each husband a story.

Monique Grant, a young, seemingly unrelated journalist, is handpicked by Evelyn to pen her biography. What could be the connection? As Monique dives into the depths of Evelyn's soul, the reader is invited to swim through a sea of lush Hollywood galas, steamy love affairs, and dark secrets that could fill a library. With every stroke, Evelyn's character unravels - showing her strength, ambition, vulnerabilities, and the price she pays for her glittering crown. The story is a haunting love letter to Old Hollywood while being a sharp, poignant reminder of the sacrifices one makes for stardom and love. The Seven Husbands of Evelyn Hugo is a bewitching novel that grips your heart and doesn't let go.
Spoilers (click here to reveal spoilers)
In an ending as heart-wrenching as the chords of an old love song, The Seven Husbands of Evelyn Hugo unveils its secrets. Evelyn's biggest revelation is that the love of her life was not any of her husbands, but her female co-star, Celia St. James. Their love is a dance amidst the stars, painted with passion and sorrow. We discover that Monique is actually the daughter of Evelyn's deceased husband, Harry Cameron, and the reason Evelyn chose her was to build a connection with the last piece of Harry she has left. Evelyn's final act of love is leaving her entire estate to Monique. The book concludes with Monique finding the strength to write Evelyn's true story, while also finding her own voice as a woman and a writer.
The Seven Husbands of Evelyn Hugo:
Genres
Fiction
Historical Fiction
Women's Fiction
Romance
LGBTQ+ Fiction
The Seven Husbands of Evelyn Hugo:
Main Characters
Evelyn Hugo: A magnetic, fiercely ambitious Hollywood actress, whose thirst for love and success defines her life. She values loyalty, as seen when she takes care of her husband Harry, who's also her best friend, during his illness.
Monique Grant: A young, talented, and curious journalist seeking her own identity and purpose. Her determination is reflected in her unwavering commitment to uncovering Evelyn's truth.
Celia St. James: A glamorous Hollywood star and Evelyn's true love, whose relationship with Evelyn symbolizes defiance against societal norms and unyielding devotion.
Harry Cameron: One of Evelyn's husbands and her dearest friend. His loyalty to Evelyn, and his sacrifice by marrying her to protect her secret, defines his character.
The Seven Husbands of Evelyn Hugo:
Themes
Love and Sacrifice: Throughout the book, characters like Evelyn and Celia make significant sacrifices for love. For instance, Evelyn and Celia maintain their relationship in secret to protect their careers.
Identity and Authenticity: Evelyn's struggle with her Cuban identity and hiding her true self in Hollywood reflects the battle for authenticity.
Feminism and Empowerment: Evelyn's ascent in a male-dominated industry illustrates female empowerment, as she takes control of her career.
The Price of Fame: The novel explores the darker side of stardom, such as the loss of privacy and the toll it takes on relationships.
Legacy and Memory: As Evelyn tells her story to Monique, the theme of what one leaves behind, and how memories and legacies are crafted, is central to the narrative.
The Seven Husbands of Evelyn Hugo