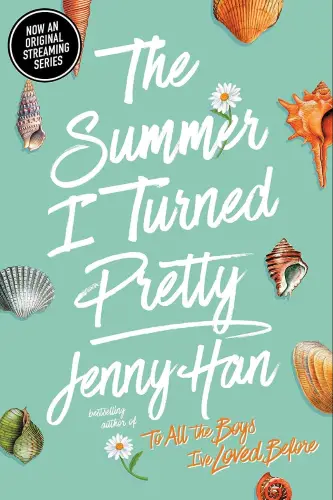 Date Published: 2009
The Summer I Turned Pretty:
TL;DR Summary
Discover a summer of secrets, love, and transformation! In "The Summer I Turned Pretty" by Jenny Han, the picturesque Cousins Beach serves as the backdrop for a tale of self-discovery and the complexities of young love. Every summer, Belly Conklin looks forward to her annual trip to this coastal haven, where she stays with her mother's lifelong friend, Susannah, and her two sons, Conrad and Jeremiah.

For Belly, these summers are a magical escape from reality, filled with sun-soaked days and starry nights. But this summer is different. As Belly turns sixteen, she begins to see the boys, especially Conrad, in a new light. Tensions rise as feelings evolve, and Belly is thrust into the tumultuous world of first loves and heartbreaks. As the season progresses, secrets unravel, relationships are tested, and Belly learns that growing up means facing harsh truths. Amidst the backdrop of the shimmering sea and golden sands, Belly's journey of love and self-acceptance unfolds, making this a summer she'll never forget.
Spoilers (click here to reveal spoilers)
As the summer at Cousins Beach draws to a close, Belly is faced with heart-wrenching decisions. Conrad, the boy she's always loved, finally admits his feelings for her. However, it's Jeremiah, Conrad's brother, who stands by her side when she needs it most.

The bonds of friendship are tested as Belly must choose between the two brothers. In a twist of fate, Susannah, the glue that held them all together, reveals her battle with cancer, leaving everyone devastated.

The summer concludes with Belly realizing that love is complicated, and sometimes, the heart wants what it can't have. Amidst tears and farewells, Belly leaves Cousins Beach with memories that will last a lifetime.
The Summer I Turned Pretty:
Genres
Fiction
Young Adult Fiction
Coming of Age
Romance
Family Drama
Contemporary Fiction
The Summer I Turned Pretty:
Main Characters
Belly Conklin: A young girl on the cusp of womanhood, Belly is sentimental and often daydreams about love. She values loyalty, as seen when she stands by Susannah during her illness.
Conrad: The older of the two brothers, Conrad is brooding and mysterious. He values privacy, often keeping his feelings to himself, like his affection for Belly.
Jeremiah: Conrad's younger brother, Jeremiah is outgoing and friendly. He values honesty, always speaking his mind, especially about his feelings for Belly.
Susannah: The mother figure to Belly during her summers, Susannah is kind and nurturing. She values family, always ensuring that the summer house feels like home for everyone.
The Summer I Turned Pretty:
Themes
First Love: Belly's infatuation with Conrad showcases the intensity and naivety of first love, like when she waits for him at the beach, hoping he'd notice her.
Growing Up: Belly's journey from a carefree girl to a mature young woman is evident in her decisions and realizations about love and life.
Family and Friendship: The bond between Belly, Susannah, and the boys highlights the importance of chosen family, like their annual summer traditions at Cousins Beach.
Loss and Grief: Susannah's illness brings to light the pain of losing a loved one and the process of healing, as seen in the way each character copes with her diagnosis.
The Summer I Turned Pretty