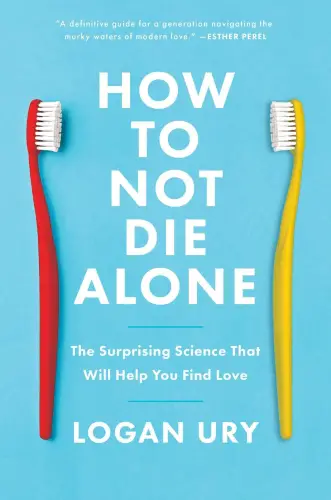 Date Published: February 2, 2021
How to Not Die Alone:
TL;DR Summary
Unlock the secrets to everlasting love, and turn your romantic life around with science! Imagine transforming your dating life into a thrilling journey that leads you right into the arms of your soulmate. How to Not Die Alone by Logan Ury lays out a groundbreaking roadmap backed by behavioral science, to help you find love that's meant for you. It's not just about random swipes or blind luck; it's a strategic game where you're the main player.

The book revolves around the fundamental idea that most of our dating problems are rooted in our brains, and by understanding behavioral science, we can rewire our thinking patterns to make smarter romantic choices. The "Three Dating Tendencies" is a cornerstone concept introduced by Ury, which postulates that your dating life is largely influenced by how you reject, pursue or get stuck in romantic relationships.

Firstly, there's the "Romanticizer," who tends to idealize relationships and is perpetually seeking that perfect someone, while dismissing realistic matches. Then we have the "Maximizer," who treats dating as an endless quest for better options, never settling down. Lastly, there's the "Hesitater," who puts off dating due to unrealistically high self-expectations.

How to Not Die Alone is teeming with relatable anecdotes, exercises, and concrete advice on how to recognize your dating tendencies and navigate the modern dating world more effectively. It also sheds light on the influence of dating apps and online platforms, while presenting a refreshing approach to creating an authentic profile and sending messages that actually work.

Want a loving relationship that stands the test of time? This book assists in introspecting and molding your mindset, setting realistic expectations, and taking decisive steps towards forming meaningful connections. You'll learn to embrace vulnerability, communicate your desires effectively, and build a relationship that's not just about sparks, but also about nurturing a deep bond.

Dive into How to Not Die Alone and equip yourself with the wisdom to not just find a partner, but also to create a rich and fulfilling love life that is as much about giving as it is about receiving. Your quest for true love, decoded through science, is just a book away.
How to Not Die Alone:
Genres
Non-Fiction
Self-Help
Relationships
Psychology
Behavioral Science
How to Not Die Alone:
Themes
Behavioral Science and Relationships: The book illustrates how understanding behavioral science can transform your romantic decisions. For instance, knowing your "Three Dating Tendencies" can help you make better choices.
Realistic Expectations: Ury discusses the pitfalls of unrealistic expectations, such as the "Romanticizer's" dream of the perfect partner, and emphasizes the importance of seeking relationships that are fulfilling yet realistic.
Effective Communication: The book provides advice on how to communicate one's desires and needs effectively. For instance, crafting a genuine and engaging online dating profile or conveying your intentions honestly in person.
Embracing Vulnerability: Ury encourages readers to embrace vulnerability as a strength in relationships. For example, she discusses how opening up to potential partners about your aspirations and fears can foster deeper connections.
Navigating the Digital Dating World: The book delves into the role of technology in modern dating and offers tips on how to effectively use dating apps. It highlights the importance of authenticity and meaningful interaction in the age of swiping.
Decision Making in Dating: How to Not Die Alone focuses on improving decision-making in dating by using strategies such as setting appropriate standards and knowing when to commit. It teaches readers to take control of their dating lives through informed choices.