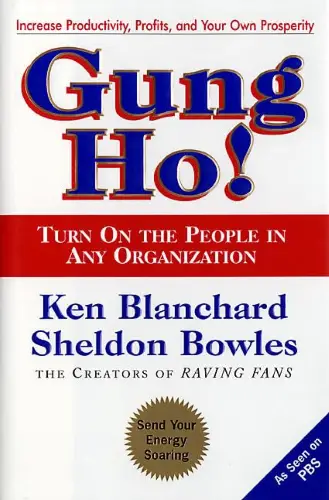 Date Published: October 8, 1997
Gung Ho!:
TL;DR Summary
Want to unleash the hidden power of enthusiasm in your workplace? Gung Ho! is the answer you've been searching for. This groundbreaking book by Ken Blanchard and Sheldon Bowles presents a simple and yet transformative philosophy that can turn any organization into a thriving, energetic, and successful entity. By sharing the wisdom found in the story of a small factory under the guidance of an inspiring leader, the authors take you on a journey towards a management approach that's founded on the principles of the Gung Ho! way.

This includes the Spirit of the Squirrel, the Way of the Beaver, and the Gift of the Goose. Each of these principles represents a different aspect of motivation, trust, and teamwork. The Spirit of the Squirrel emphasizes the importance of worthwhile work. The Way of the Beaver encourages control and autonomy, while the Gift of the Goose fosters the concept of consistent and genuine appreciation. Together, they form a blueprint that can turn even the most lackluster organization into an effervescent hub of innovation, joy, and productivity.

No matter your position or field, Gung Ho! will equip you with the tools to breathe new life into your organization and enjoy the immense success that awaits.
Gung Ho!:
Genres
Non-fiction
Self-help
Business
Management
Leadership
Organizational Behavior
Motivational
Gung Ho!:
Main Characters
Andy Longclaw: The plant manager, wise and insightful, values integrity and leading by example, as seen in his commitment to turning around the failing factory.
Peggy Sinclair: The new manager, curious and open to learning, values collaboration and innovation, as evidenced by her willingness to embrace the Gung Ho! philosophy.
The Employees: Representing a diverse cross-section, they come to value pride, teamwork, and community under the guidance of the Gung Ho! principles.
Gung Ho!:
Themes
Worthwhile Work: Emphasizing that work must be fulfilling and meaningful, as demonstrated through the Spirit of the Squirrel, where employees find purpose in their daily tasks.
Autonomy and Trust: Highlighting the need for trust and empowerment within teams, seen in the Way of the Beaver, where workers are given control and responsibility.
Appreciation and Recognition: Stressing the importance of recognizing and celebrating achievements, shown through the Gift of the Goose, where consistent encouragement fosters a supportive community.
Collaboration and Teamwork: Fostering a sense of unity and shared goals, as displayed by the employees' transformation into a cohesive, productive team under the Gung Ho! principles.
Leadership and Change Management: Examining the impact of visionary leadership and adaptability, reflected in the transition of the factory from failure to success through the implementation of the Gung Ho! way.