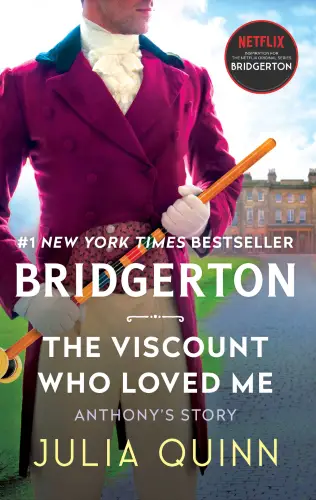 Date Published: December 5, 2000
The Viscount Who Loved Me:
TL;DR Summary
Dashing rakes, delightful waltzes, and love's unending waltz awaits in Regency London! In "The Viscount Who Loved Me," Julia Quinn transports readers into the opulent drawing rooms and glittering ballrooms of Regency-era London. Our hero, the dashing and devilishly handsome Anthony Bridgerton, is London's most eligible bachelor and notorious rake. However, his carefree days are numbered as he is determined to do his duty as the Viscount and secure an heir. For this, he needs a wife – but not just any wife; a suitable, agreeable lady who won't capture his heart. His heart, he believes, belongs to his late father, whom he idolizes and fears he can never match.

Enter Kate Sheffield – strong-willed, intelligent, and fiercely protective of her younger sister, Edwina, who is swept into London's dazzling Season as the fresh debutante. When Anthony sets his sights on Edwina, Kate is determined to save her sister from the rake's clutches. But Kate, who has sworn never to marry for anything less than love, finds herself drawn into a storm of emotions as she battles wits with the rakish Viscount.

Mysterious whispers amongst the ton, delightful picnics, and thrilling Pall Mall games ensue. Through uproarious banter, whispered secrets, and unexpected passionate encounters, an unwilling friendship between Kate and Anthony blooms.

Beneath starlit nights and within the fervor of the season, the two will have to navigate societal pressures, family expectations, and the treacherous terrain of their own hearts.
Spoilers (click here to reveal spoilers)
When hearts collide, can the Viscount's vow withstand love's tempest? In the climactic ending of "The Viscount Who Loved Me," emotions run high as Kate Sheffield and Anthony Bridgerton's bickering takes a passionate turn. However, tragedy strikes when Kate gets into an accident, and Anthony is forced to confront his deepest fears and feelings. In a heart-wrenching moment, Anthony opens up about his fear of dying young like his father and his aversion to falling in love. Through tears and tender words, Kate helps him realize that embracing love is not a betrayal of his father's memory. The Viscount's heart, once locked away, finds solace and passion in the arms of the lady he least expected.

They marry in a beautiful ceremony surrounded by friends and family. As they embark on their life together, they realize that love can conquer fears and that happiness is not bound by the shadows of the past.
The Viscount Who Loved Me:
Genres
Fiction
Romance
Historical Romance
Regency Romance
Comedy of Manners
The Viscount Who Loved Me:
Main Characters
Anthony Bridgerton: The dashing Viscount, haunted by his father's early death. He values duty and family, shown by his determination to marry and secure an heir for the Bridgerton line.
Kate Sheffield: A strong-willed and intelligent woman who values love and integrity. Her protective nature is demonstrated when she tries to protect her sister from Anthony's rakish intentions.
Edwina Sheffield: Kate's younger sister and a debutante. She's kind and gentle, valuing family and sisterly affection. Her support for Kate's happiness is evident throughout the story.
The Viscount Who Loved Me:
Themes
Love and Sacrifice: Throughout the book, love is depicted as a powerful force that often demands sacrifice. For instance, Kate is willing to sacrifice her happiness to protect her sister, and Anthony ultimately sacrifices his self-imposed emotional isolation for love.
Family and Loyalty: The Bridgerton and Sheffield families are central to the story, highlighting the importance of family ties and loyalty. Kate's unwavering loyalty to her sister and Anthony's devotion to his family legacy exemplify this theme.
Overcoming Fears and Personal Growth: Anthony's fear of outliving his father and his subsequent emotional unavailability is a central conflict. His growth and eventual overcoming of this fear, with Kate's support, symbolize personal evolution.
Societal Expectations and Pressure: Set in Regency-era London, the story reflects the societal pressures of the time, especially regarding marriage and reputation. Kate and Anthony have to navigate these pressures as they find their way to each other.
Humor and Wit: The playful banter and humorous situations, such as the infamous Pall Mall game, add lightness and wit to the novel, making it not just a romance but also a comedy of manners.
The Viscount Who Loved Me